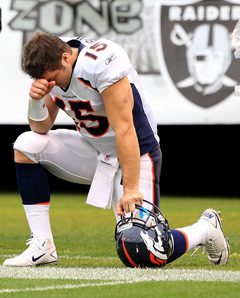 So, now is it cool to mock Quarterback Tim Tebow's faith?
Apparently Detroit Lions linebacker Stephen Tulloch thinks so. He openly mimicked Tebow's familiar prayer pose after sacking Tebow in the second quarter this week.
"Ridicule Tim Tebow for his slow release, for missing open receivers, for throwing passes that sail out of bounds, and for sometimes dancing in the pocket like someone put a firecracker in his cleats," writes ESPN's Jemele Hill. "That's fair game. But mocking Tebow's Christian beliefs is not."
The Lions were unmerciful to Tebow, sacking him seven times as they won 45-10 win.
"And it was clear Detroit's defense took special pleasure in humiliating Tebow," notes Hill. "Perhaps a little too much pleasure. It wasn't just Tulloch, either. After catching a 1-yard touchdown pass, tight end Tony Scheffler — a former Bronco — joined in the fun, mimicking Tebow's one-kneed prayer in the end zone after giving the crowd the Mile High Salute.
"I'm sure Tebow wasn't trying to create a craze when he knelt to the ground and prayed as his teammates celebrated wildly around him following the improbable victory over Miami," writes Hill. "But a Denver fan in New York City posted pictures of himself and his buddies 'Tebowing' after the Miami game, and since then it's become a full-blown fad. Even NBA star Dwight Howard posted a picture of himself in the prayer pose.
"Tulloch and Scheffler probably didn't intend to disrespect Tebow's faith with their celebrations," writes Hill. "But if Tebow were Muslim or Jewish, would Tulloch and Scheffler have been so quick to execute a prayer parody? Would columnists, such as my friend Dan Wetzel — whom I respect a great deal — encourage those who were offended by Tulloch's and Scheffler's Tebowing to just lighten up?
"Imitating someone's prayer pose after a sack isn't the same as Clay Matthews flexing his biceps following a big play. It's not the same as Shawne Merriman doing his "Lights Out" dance after demolishing a quarterback.
"Prayer is a sacred component of any religion. Making fun of someone else's spiritual connection is on par with ridiculing them about their family. You don't have to be a Christian to get that, just someone who understands the concept of respect."