Singer-actor Justin Timberlake says escorting blonde U.S. Marine Corporal Kelsey de Santis Saturday night to the Marine Ball "changed my life," according to the New York Post. 
The pop superstar posted on Twitter, "I glanced around the room at young men and women, spouses and soldiers … I felt so proud to be there. I felt like I was getting a chance to be among my heroes … To all of you that serve every day for us, ensuring our freedom, I say: my deepest gratitude to you."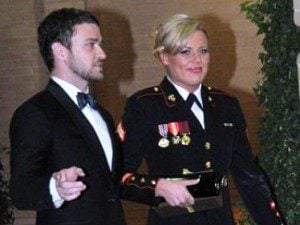 He also had kind words to say about his date. "She seemed to me to be so humble and honest … 'Are you ok?' she asked 2 or 3 times. 'I hope you are having fun. I know you will once my crew of friends get here to the table.' I have to tell you, it's not every day that I meet a 23-year-old girl and she's more worried about if I'm having fun."
"The blonde, dimpled corporal who was Justin Timberlake's date to the Instructor Battalion 236th Marine Corps Birthday Ball in Richmond, Va., says that the star is a great dance partner," reported the Post.
"The whole night was extremely … bringing sexy back, I guess you could say," Kelsey de Santis told the Today Show, quoting the name of the classic Timberlake hit. "We were on the dance floor and had a good time at the table joking and laughing … It was wonderful. A really good experience."
De Santis asked Timberlake to the ball using YouTube in July, following the lead of Marine Sgt. Scott Moore, who had invited actress Mila Kunis in a video that quickly went viral. After Timberlake publicly poked fun at Kunis about the invite, saying that she needed to attend "for your country," de Santis posted her own challenge to Timberlake.
"So Justin, You want to call out my girl, Mila? Well, I'm going to call you out and ask you to come to the Marine Corps ball with me on November 12," de Santis said in a video that was viewed close to 2 million times. "If you can't go, all I have to say is cry me a river."
Timberlake ended his post, "Thank you Corporal Kelsey DeSantis. Thank you for inviting me. And, thank you for being my hero."