Bil Keane, 89, the creator of the world's most popular single-panel newspaper comic, the Family Circus, died Tuesday.
He left behind a half-century of daily visits to the Keane family where he, his wife, now-grown kids and their pets were the models for Daddy, Mommy, Billy, Dolly, Jeffy, P.J., Barfy, Sam and Kittycat. The comic appears in more than 1,500 newspapers worldwide.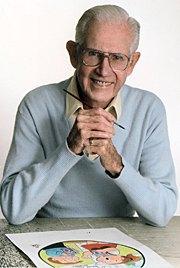 In a 2003 interview published in the Baptist Standard, the Catholic Keane admitted he enjoyed inserting his personal faith into his daily commentaries on life.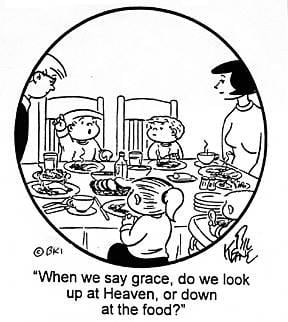 In one classic, Jeffy prays before bed "Our Father who art in Heaven, how did you know my name?" In another, Dolly asks, "Is God white, black, brown, yellow or red?" Mommy simply answers, "Yes."
Keane told Religious News Service reporter Kathi Wolfe that shortly after the September 11, 2001 attacks, he received mail from readers "who are gratified that there is something in the comic pages that devotes some space to the influence of religion and God. No one has an explanation for the attacks. But most people believe that guidance from above will help to beat terrorism."
Keane began drawing the iconic daily comic in 1960, and it will continue since his son Jeff — yes, the model for Jeffy — took over a few years ago. Keane enjoyed a 60-year marriage to Thelma Keane, who at the peak of the comic's popularity was often recognized at the supermarket by strangers who would ask "Are you Mommy from the Family Circus?"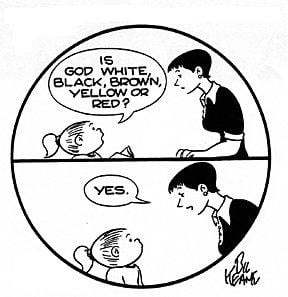 Behind the scenes, he was the upbeat master-of-ceremonies at the National Cartoonists Society annual awards banquet for 16 years. "His fellow cartoonists unfailingly described him as the nicest of nice guys, and startlingly funny," remembers Brigid Alverson for Comic Book Resources.
The University of Wisconsin's at Madison's Artist-in-Residence, Lynda Barry recalls:
I was a kid growing up in a troubled household. We didn't have books in the house but we did have the daily paper and I remember picking out Family Circus before I could really read.

There was something about the life on the other side of that circle that looked pretty good. For kids like me there was a map and a compass hidden in Family Circus. The parents in that comic strip really loved their children. Their home was stable. It put that image in my head and I kept it.

I'd always heard that great art will cause people to burst into tears but the only time it ever happened to me was when I was introduced to Bil Keane's son, Jeff. As soon as I shook his hand I just started bawling my face off because I realized I had climbed through the circle.
The religious themes expressed in the strip grew out of his family's experiences, Keane told Wolfe. The children express "the religious questions that I had as a child or that other children have."
For example, in one, Dolly wonders, "When people get to heaven, are they allowed to hug God?"
Keane realized that he had to present his message subtly — and only occasionally, 'or my editor would say he's not buying a religious strip," Keane told Wolfe. "It makes it more special that way."
"Religion was a part of our home life when I was growing up," he said. "I attended Catholic school. It was a good education — for the spiritual end, as well as for its discipline. Laughter was a part of the church services I attended as a child."
He recalls his sixth grade teacher, Sister Anne, who didn't mind his charicatures featuring her. "She was a great teacher. Instead of chastising me for drawing her in a not-too-flattering way, she encouraged me." When he left her class, Keane said, "Sister Anne said, 'I hope someday to see you drawing cartoons.'"
He believed "Jesus must have had a sense of humor. I like to think of Him as a guy who got people to listen to Him by leaving them laughing and chuckling with one another."