They stand in silence, 10 feet tall, Christian kids on folding chairs hidden under their robes and wings in Mexico's murder capital, the border town of Ciudad Juarez.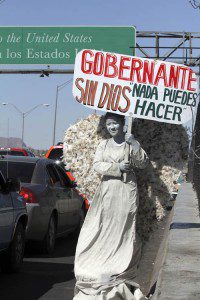 "Young members of a small church known as Psalm 100," writes Damien Cave in the New York Times, "have begun dressing as angels in an effort to reduce crime. Angels are not a common sight here in Mexico's most violent border city, where the public cemetery is putrid and overflowing, and where a handful of churches worship the skeletal saint of death, Santa Muerte.
"At crime scenes and busy corners recently, more than a dozen angels have appeared — 10 feet tall, with white robes and wide feathered wings. The fact that these angels are mostly teenagers from a tiny evangelical church on a dirt road makes their presence no less striking: they carry signs to murder scenes that say "murderers repent."
"It's incredible, one of the most spectacular things I've seen," said Jesús Nuñez, director of Tocando Puertas, a local social service agency. "It's dangerous, but they keep doing it."
Here is a Spanish-language account showing the angels in action:
Latin American news website NTN24 marvels at the kids' bravery — and how they stand silently for hours with placards denouncing the killings that have ravaged Juarez — and seriously hurt the tourist industry. Juarez sits across the Rio Grande river from El Paso, Texas, and has long been a popular entry point for Americans wanting to spend a day in Mexico.
"These innocent, teenage 'angels' want to 'prick the consciences of people who have caused … so much pain,'" reports the website America's Mexico Blog. "Unfortunately, the cartel members — and some government officials — have lost their consciences. They are sociopaths. They have sold their souls to the devil."
What do the kids hope to accomplish?
"Carlos Mayorga, 33, a leader of the group, said the church's young people had become frustrated with the relentless violence and wanted to do something hard to miss. So they persuaded city officials to donate old curtains that became angelic robes. They raised money for makeup and collected feathers for wings that jut above their heads," reported the Times. "Then they wrote up signs that by and large speak directly to criminals and corrupted officials."
"We wanted to prick the consciences of the people who have caused this city so much pain," Mayorga told the Times.