As a horrific child abuse sex scandal wracks Pennsylvania State University, God is speaking, says a longtime supporter and neighbor of the school.
"It has been a horrible week for our town," writes Chris Heinz in his personal blog. "A cloud covers us because the mighty lion has fallen. By lion, I mean Penn State."
The university's highly respected Big Ten and NCAA Division I athletics teams are the Nittany Lions.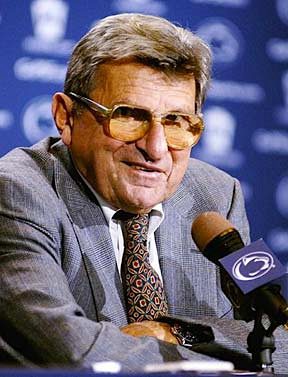 "A hometown hero has been charged with deplorable crimes against children," writes Heinz. "High ranking university officials have been charged with perjury. And there's more to come. If the charges are true, more victims will step forward. We will learn about more devastation, more loss of innocence, more broken trust, more eroded character."
Former assistant coach Gerald "Jerry" Sandusky, 67, is accused of sexually abusing eight young boys over more than a decade. Prosecutors said Sandusky met all his alleged victims through a non-profit group he founded to help under-privileged kids. As the charges unfold, it is alleged that a university employee caught Sandusky raping a 10-year-old boy a decade ago — and nothing was done although famed football coach Joe Paterno was informed of the incident — and reported it to his superiors.
Now the university's trustees have fired Paterno, who Heinz calls "the winningest coach in major college football," as well as college President Graham Spanier. Sandusky is facing the rest of his life in prison. Sponsors and donors to the university's programs are pulling out — particularly after reports that Sandusky might have been "pimping" children to donors for large donations.
"Yes, the lion has fallen," writes Heinz, "and we are in free fall. That's why we need God more than ever."
Sandusky contends he is innocent.
Adding to the shock waves on campus, Penn State athletic director Tim Curley and finance official Gary Schultz were also charged by police with failure to report an the alleged incidents as well as perjury for the cover-up which followed.
Curley has been placed on administrative leave Schultz resigned. Paterno was not charged, but has been first after admitting he was told in 2002 that Sandusky had been caught in the act with a pre-teenage boy. Parterno told his boss, but did not call the police.
Mike McQueary, an assistant football coach who allegedly witnessed and reported to Paterno the 2002 incident, was placed on administrative leave.
And now Moody's has warned of a possible credit downgrade for Penn State.
Heinz writes that he believes "God is saying some things to us. And if we heed them, we might find our way up. This isn't all God's saying, but it's some of what I believe He's saying:"
"My eyes are on the brokenhearted."

Things allegedly went on that no child should ever experience. They are said to have occurred in shower rooms and basements, vehicles and hotel rooms. God knows about each incident and cares about what went on. He cares about each victim's heart. He wants to restore what was taken.

"Worship Me alone."

This week's events have revealed the objects of our worship, our hidden, "acceptable" idolatry. Part of our community's pain is the tearing down of our idols. Now we're reeling because we realize we've been duped. We've put our trust in humans and humans have let us down. For years we have raised our voices and hands in praise. But the curtain has been opened, and the wizard is a fake. Now what? I believe God is calling us to worship Him alone.

"Turn your sex lives over to Me."

A month before the news broke, the Daily Collegian, Penn State's student-run newspaper, introduced a sex column. The columnist encouraged students to dive into sex and "really delve into what's important." Consensual sex between adults isn't equivalent to what is being charged. However, attitudes toward permissive and promiscuous sex certainly don't help, and they contribute to the acceptance of lower moral standards. So let's turn our sex lives over to God.

"Look at the plank in your own eye."

A society is measured by how it treats its most vulnerable members. We don't stand for crimes against children. We will prosecute. But in the hunt, we must examine ourselves. When sin is exposed in a community, it's not just about the offender. It's about each of us. We must search our hearts, search our motives, search ourselves. In the end, no one escapes judgment.

Perhaps if we heed God's words, a new Lion will arise in Lion Country.