"When you were with us, all you did was to cause me and our children pain," reads the letter from a Philippine inmate's wife. "We always fought whenever you asked for money to support your vices. But now, you no longer drink and instead, send money for the family. The Lord is so kind. It's an answered prayer!"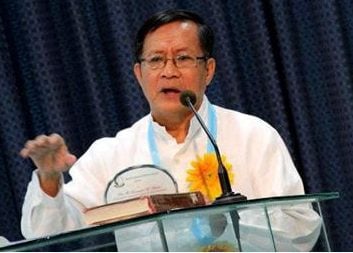 Father Dominador Medina, 69, shares the letter with a chuckle — glad that he's been able to shine a little light in the darkness. The destitute families of 20 local inmates are all getting unexpected checks this week from Medina's bright idea.
He serves St. Peter's parish in Cavite City, which occupies a hook-shaped peninsula jutting out into Manila Bay. The checks are only for about $70 — that's $3,000 in Philippine pesos — but will go far for families whose children work as street vendors and shoeshine boys, often making as little as $5 a week.
The money is the profit from a parish project in which Medina chose 20 inmates at the Cavite City District Jail who agreed to make candles.
Many of the detainees were incarcerated for selling illegal drugs, says Medina.
"The inmates were happy because they found something to get busy with and at the same time, earn something out of it," he told the Philippine Daily Inquirer newspaper.
Medina's friend, Marian Navarrete, a theological student, volunteered to teach candle-making to the inmates.
With a start-up capital of about $80 for the wax, wicks and the glass holders, the return was "200 percent," says Navarrete. The parish provided the money from donations. He says it's teaching the inmates a useful skill. The parish is also starting a smoked fish business to employ former candlemakers when they are released from jail.
"I'm afraid that if they could not find a job immediately," the priest said, "they might return to selling drugs or stealing."
Elderly church members volunteered to sell the candles to churchgoers after services.
" They also volunteered to go house to house to peddle the candles," the priest told the Inquirer. Now the parish is coordinating sales with three other parishes in the city.
He told church members that "while we pray hard for them" — the inmates — "we also have to take action to help."