I woke this morning feeling a bit disoriented and irritable. My mind raced to try to figure out "what was wrong?" Was I upset about something? Did I have something planned for the day that I didn't want to do? Was I unfulfilled by my life? Was I guilty or ashamed about something? It seems silly now, but my sleepy mind was bombarded by such artillery.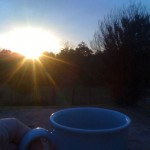 And then something miraculous happened…
I stepped outside.
Every single time it amazes me that when the fresh air hits me, all the dissatisfaction…all the irritation…all the confusion…just melts off me.
My husband has fashioned a nature walk in a little area of woods at the back of our five-acre property. The trees tower above and the sunlight streams on to the path in patterns. To reach this area, we turn a corner from the pasture into the forest area. We relish that it's impossible to take the cares of the world in to such a spot. They just have to fall off as we turn the corner.
At his job my husband deals with troubled teens. His years of experience and education offer a variety of routines and procedures to help these kids. He's found, however, that the very best thing he can do for them is to walk them. Every day he takes them outside and they walk around town. Some of these teenagers admit it's the only time of the day they are outside and it relieves stress and makes them feel good again.
My sister recently rescued a dog from the humane society. My sister says the biggest improvements the dog has made to her life is the need for the daily walk. The dog gives my sister a reason to get outside and that is always a good thing.
May I encourage you to make an effort today to take all those cares and troubles and release them in the fresh air? You'll be happy you did.