It's 7:30 a.m., I have a major sinus headache, and yet I jolt with the sudden urge to climb up on a child's loft bed and hammer itty bitty nails in the exact right spots so that the 8X10 photographs of Anya–years one through nine–hang in a perfect line. Before doing this I had to rummage around for the frames….clean the glass….break finger nails by pushing in those darn little metal brackets: all detail work….all things I hate. Yet I *wanted* to do such a thing. What is up with THAT?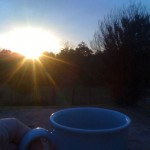 Author and life coach Martha Beck states in the February 2011 O Magazine ("May We Help You? Yours for the Asking") that it is important to ask ourselves this question, "Is this what I want to be doing?". She goes on to say, "this very moment is, always, the only moment in which you can make changes. Knowing which changes are best for you comes, always, from assessing what you feel. Ask yourself many times every day if you like what you're doing. If the answer is no, start noticing what you'd prefer. Thus begins the revolution."
I think this is brilliant.
In fact, I think it is so brilliant that about a year ago I threw out my schedule and my plans and my expectations of self and instead began asking myself the Important Question about every five minutes of every day. And an amazing thing happened. Our schooling became more animated. Our house became cleaner. Our meals became more elaborate. And I became happier.
I think we make the schedules and the rules and stand over ourselves with a whip and a yell because we don't trust our inner selves. We think we'll be "naughty" and never mop the floor…or get dressed…or get out of bed. And, yes, there have been days when I have accomplished very little. But then there are other days that make up for it. It's all in the timing and my inner self seems to have much better timing than my appointment book.
Two months ago Anya asked me to hang those photographs and the thought made me want to run from the house screaming and follow the run by eating a box of chocolates. I told her "not now" and put the photos up on a shelf where they collected dust (which I had to clean off today!). Did I feel guilty? No. Did they call out to me accusingly the last two months? No. No, instead, they sat there quietly and today…two months later…they looked like a friendly little project and I took them off the shelf and got the job done.
Happily.