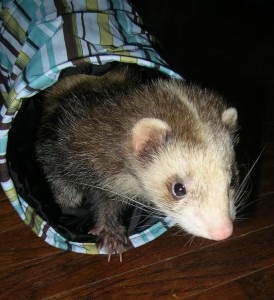 Our sweet ferret, Emerald, is dancing with death and I'm sure the music will stop within the hour.
I know that allowing so many animals in to our family also means we have to suffer as they suffer: a choice I've made. I ran in to a friend the other day who said, "It's been a year since we lost our dear Basset Hound and we're still not ready for another". I understand this sentiment, and, when one of our pets is at the end, I wonder why I don't follow that same path. It's painful to watch my little girl cry as she tells yet another pet goodbye.
Not only do we fill the chicken coop with those delicate pets we call chickens…and not only do we fill yards with those even more delicate pets called rabbits, we welcome geriatric pets to our farm! For three years our farm was the "pasture" in the cliche "Out to Pasture" for Esther, the 30-year-old pony. And Emerald was also elderly when he came to our farm two years ago.
Emerald was Anya's dream. She saw a ferret on a movie and couldn't stop thinking how much fun it would be to own a "weasel". Now, Joe and I had ferrets when we were newly married…so we knew the truth of the matter and tried to explain things to her ;). No, it didn't work. She just kept on dreaming. And when Anya dreams, God listens!
I didn't want to go to a pet store and pick out a ferret, I wanted to share our home with a ferret who really needed some love. After hours on-line looking for the "right fit", I had just about given up. My friends at The General Store knew of my quest. One day I was shopping for feed, and The General Store phone rang. My friend giggled as she hung up the phone, "That was a lady needing a home for an elderly ferret".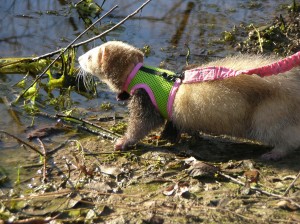 My GPS lead me to a run down house in a worse neighborhood. I almost cried when I saw the pitiful Ferret…with a bald tail…trapped in a little cage. The woman said, "It eats cat food" as she pushed the cage toward me. When I asked if it was a boy or girl, she said, "Oh, I don't know…I don't touch it" and actually shuttered! I handed her two $20's, grabbed up the cage and headed to the car, never looking back.
I'm not going to lie…Emerald has been a trial at times. He *did* smell bad. He was not cute when he lost *all* his fur. He preferred the corners of the house to his litter box. But we loved him just the same.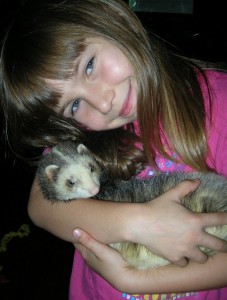 Good bye, Sweet Boy.