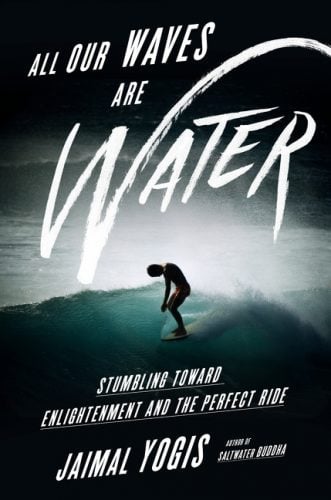 All Our Waves are Water: Stumbling Towards Enlightenment and the Perfect Ride is the latest book from my friend, dharma brother, and workshop collaborator Jaimal Yogis. This books picks up where his first book, the touching, profound and compelling coming of age story, Saltwater Buddha leaves off.
All Our Waves takes the reader through heartbreak, love, ambition, and the search for spiritual truth. It is a raw, funny, and honest account of the struggles to live an awakened life.
I was fortunate to read an early draft of the work, and I wrote these words of endorsement:
Jaimal's journeys in All Our Waves Are Water speaks to all of our sojourns through loss, self-discovery, and an earnest attempt to awaken. Like Saltwater Buddha, this book is a privileged view into the life of a true seeker, a contemporary bodhisattva living and loving in the world. It's an ode to water, to the primal and playful art of surfing. Jaimal is a great storyteller and he captivates us with a his deeply personal tales of being a flesh and blood and thought and emotion creature working to bring more wisdom to his life and light to the world. It's all there, attachment and craving right alongside renunciation and revelation. This book takes the reader from the Himalayas to Mexico to Israel to New York City to Bali and the inner city of San Francisco. The events of each place reveal a rhythm of humanity and divinity as seamless and natural as the in-breath and the out-breath.
All Our Waves is available for pre-order now and will be out July 4th.
I am awed by Jaimal's storytelling prowess and the great stories that he has lived in his young life. He inspires me to be a better writer and his beautiful writing is part of the reason I have decided to pursue an MFA in creative nonfiction at Bennington College.
In the meantime, Jaimal and I continue to teach the dharma together, using the metaphor of the ocean for coping with the impermanence of life. We had a great one-day training at Spirit Rock Meditation this past January and we are looking forward to teaching again at the Kripalu Center for Yoga and Health this April from the 16th to the 21st. You can register for this program now and join us for a heartfelt week of mindfulness, meditation, and exploring the truth of our experiences.
Moved by his writing and our work together, I have crafted this poem named after Saltwater Buddha the book and the documentary film (available now!) that starts with my consciousness of landscape here in northern Vermont and the Green Mountains, Adirondacks, and Lake Champlain. It then goes to the actual and metaphoric sea that lives in imagination and takes us into the vastness of the world. Meanwhile, I pay homage to T. S. Eliot's Four Quartets and Pablo Neruda's poem, "Too Many Names."
Over time, I forget the wide expanse of this inland sea.
These old mountains shrink in memory to quaint images
and then surprise me with their worn yet formidable heights
stirring me out of the complacency of dog-eared stories
if only for an instant before I am swallowed again.
200 miles to the east and 3000 to the west the oceans live.
I can only recall their lurching green expanses from memory
their incessant movement that is actually not movement at all
I try to make sense of their rhythms pounding out the story of time
I try to get my head around their confident embrace of infinity.
I am exiled from the vast open presence until I see the mountains
breathing into sky and the water disappearing at the edge of the world
I am a stranger to this world until I imagine the earth's forbidding core
and the 50 million miles of wiring in my brain stretching halfway to the sun
I am refugee wandering surfaces until I realize the atom's endless space.
I dissolve myself into the dark waters of the sea, merging
as if I am not just part of that landscape but its breathing tissue
and dying to the possibility, I yield to the beating heart of the night
riding the waves as if I am a surfer sitting with legs crossed
breathing one thought, one action, one gesture of time.
I am a saltwater Buddha, woven into the fabric of stars, dust, and space
smiling under the hot sun I sweat salt back to the breathing sea that
beckons me to relinquish stories, to ride its ripples of unity and multiplicity.
a conversation where words vanish into darkness and light and I
find the still point that lives between each wave to arrive home.
May you find peace, solace, and meaning in all the waves that comprise your life and may you arrive home within yourself in this vast universe.