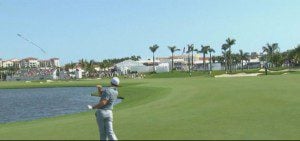 The world's number one ranked golfer, Rory McIlroy made a spectacle of himself yesterday during the World Golf Championship tournament at Doral. After pulling his long approach shot into the water on hole number 8, he then launched his 3-iron into the lake. It sailed 60 or 70 yards before splashing into its watery grave.
This incident captures my attention in a couple of ways. First, I sometimes coach golfers to approach the game with more equanimity and less frustration. I can certainly understand his frustration and the urge to act it out in the way that he did. When amateur golfers get frustrated like this, it is always because they have unrealistic expectations of how they should perform. But when you are the number one player in the world, those same expectations are reasonable.
Still, Rory has been struggling. He missed the cut in his season debut last week at the Honda Classic. He wants to be competitive. It also appears that throwing the club jump started his round and he finished the day tied for 11th at 1 under par.
Second, this incident piques my interest from the perspective of buddhadharma. What might the Buddha say about this?
Was there another way? Perhaps, but we can become purist in our admonitions. I am reminded of the Buddha saying, "Everything in moderation, including moderation." We can become attached to being "moderate" just as we can become attached to anything else. Rory is human, therefore fallible. At 25-years-old, he's barely got a fully matured brain. I think we can grant him this behavior without condemnation.
He recognized that while it felt good to release his emotion in this way, it was not a skillful act. I doubt it will become a pattern for him. He said,
I think every golfer feels it because I don't hit shots like the one I hit on 8 on the range. So that's what really bothers me, the fact that I get out on the course and I hit shots that I'm not seeing when I'm in a more relaxed environment. So it's a little bit of mental, a little bit of physical. It's just everything is not quite matching up.
What Rory forgot is, while he is currently the best golfer in the world, impermanence still prevails. Golfers are not machines and performance will vary week by week. Performance is also tied to energy and trance-like states. Throwing the club jarred him from that trance state. Of course, there are other ways to accomplish this–mindfulness being one of them.
He could have breathed, let out a deep guttural vocalized exhale, like a lions roar and moved on. He could have just laughed or smiled and moved on. Still, for the rest of us who have felt this frustration, it helps to put things in context. We don't need to berate ourselves for getting frustration on the golf course or anywhere else.
This is not to condone or encourage such acting out but to appreciate that life is difficult and sometimes we fall down. The Buddha would encourage us to pick ourselves up, strengthen our resolve to awaken, and start again in the next moment.