First, LeBron James made a very public, televised decision to leave the Cleveland Cavaliers and join the Miami Heat. He did not inform the Cavaliers of his decision before it was televised to the waiting world.
Then, Dan Gilbert, owner of the Cavaliers, wrote an embarrassing nasty letter to Cleveland fans, referring to LeBron's decision as "shameful display of selfishness and betrayal by one of our very own." And that was one of the nicer lines in the letter.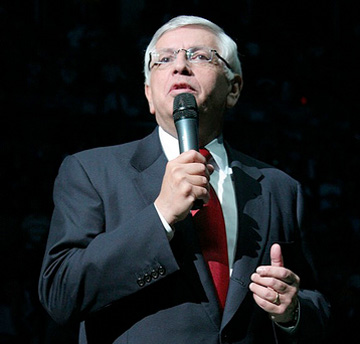 Not to be outdone, Jesse Jackson got into the act. Here's what he thinks of Gilbert and his letter: "He speaks as an owner of LeBron and not the owner of the Cleveland
Cavaliers. His feelings of betrayal personify a slave master mentality.
He sees LeBron as a runaway slave." Wow! Jackson plays, not just the race card, but the slavery card. I'm sure that's going to help matters. (Photo: NBA Commissioner, David Stern)
Now NBA Commissioner David Stern has weighed in on the matter, slapping everybody's hands. He rebuked LeBron for his overly publicized handling of his move to Miami. He fined Dan Gilbert $100,000 for his letter. And he referred to the comments of his "friend" Jesse Jackson as "equally imprudent." That's pretty bad, actually. I'd hate for my comments to be equated with those of Dan Gilbert.
I wonder what will come next. Jesse Jackson has urged LeBron to "speak up and speak out clearly and forcefully." I rather hope LeBron shows the wisdom to be quiet and focus on being an excellent basketball player and a exemplary human being.