But I know the LORD will help those they persecute;
he will give justice to the poor.

If I were to stand up in front of a group of Christians today and say,
"God will give justice to the poor," I would receive diverse responses
depending on the nature of my audience. If I were speaking to a
mainline Protestant group, chances are people would receive my
declaration with approval. In many cases, they would also assume from
my use of this language that I leaned to the left both theologically
and politically.
Yet
if I were to announce to a theologically conservative Christian group,
"God will give justice to the poor," odds are my words would be
received tentatively. They also would tend to assume that I was liberal
in my theology and my politics, and this would raise suspicions.
It
is truly sad that the issue of divine justice has been so colored by
our secular and Christian culture that mentioning God's concern for the
poor implies a certain kind of theological and political agenda. The
fact is that the Bible is full of statements like Psalm 140:12, which
could be translated literally: "I know that the LORD judges the
afflicted (fairly) and does justice for the poor." All Christians, no
matter our theology or our politics, should pay close attention to
God's justice, especially to his concern for those who are poor and
afflicted.
One of the most encouraging developments among
evangelical Christians in the last few decades has been a growing
commitment to join the Lord in seeking justice for the poor. Prominent
evangelical churches, such as Saddleback Church where Rick Warren is
the pastor, have added working for justice for the poor to their
commitment to evangelism. Some of the finest organizations in the world
that care for the needy are solidly evangelical (for example, World
Vision and Samaritan's Purse).
Christians will flesh out God's
concern for justice in a wide variety of ways. Some of us will prefer
liberal political solutions, while others will uphold conservative
political values. Some of us will focus on economic development in
areas of poverty, while others will seek to feed the hungry. But all
Christians are called by Scripture to join the Lord in his care for the
poor and the afflicted. We are to be agents of divine justice in this
world, even as we await the fullness of that justice in the world to
come.
QUESTIONS FOR REFLECTION: How do you tend
to think of "social justice" in relationship to your faith? In what
ways are you involved in God's work of justice? Are there other efforts
to which the Lord might be calling you?
PRAYER: Dear Lord, Psalm 140
reaffirms what we see throughout Scripture, namely, that you are a God
of justice. In particular, your justice extends to those who would not
easily receive it in this world: the poor, the afflicted, the
oppressed, the stranger, the orphan, the widow.
Help me, O
Lord, to know how I can join you in your work of justice in this world.
Keep me from prejudices that would harden my heart against the poor and
the oppressed. Show me how I can do justice in my part of this world:
as a boss, a citizen, a neighbor, and a parent.
Thank you,
dear Lord, for Christian organizations that seek justice for those who
so often don't have it. Bless the work of World Vision and Samaritan's
Purse, Bread for the World and International Justice Mission, and so
many other ministries that seek to extend justice and care for the
poor. May your people reach out with your love, grace, and truth in
tangible ways. May the world see in us the good news we proclaim. Amen.
_________________________________________________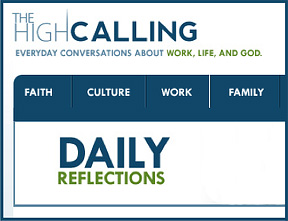 Would you like to receive a Daily Reflection like this one in your email inbox each morning?
Here's how . . . .
This devotional comes from The High Calling of Our Daily Work (www.thehighcalling.org), a wonderful website about work and God. You can read my Daily Reflections there, or sign up to have them sent to your email inbox each day. This website contains lots of encouragement for people who are trying to live out their faith in the workplace.