As I have said previously in this series on privacy and God, our world is far removed from the world of the Bible. On the one hand, we in United States live with far more privacy than almost anyone in the ancient world could have imagined. Many of us have lived for years without meeting our neighbors, or even knowing their names. That wouldn't have been true in first-century Nazareth, or even in Philippi. On the other hand, the technology of our age allows for the possibility of our lives being far less private than anyone in the ancient world could have imagined. Just ask Tiger Woods. Or Vanessa Hudgens. Or South Carolina governor Mark Sanford. Or any teenager who has to change his or her Facebook relationship status from "In a Relationship" to "Single."

Given the distance of our cultures from those of the Bible, I think it's perilous to try and come up with a definitive theology of privacy at it relates to the technological challenges of our day. Yet I do think some biblical principles are relevant here. And these might turn out to be a little surprising. (Photo: Pemaquid Point Lighthouse in Maine)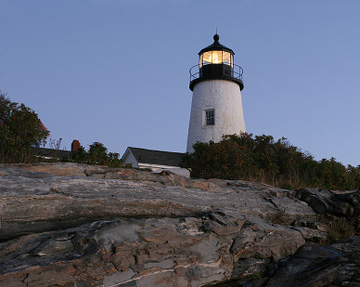 For example, as we Christians fret about the technological threats to our privacy, we may be tempted to undervalue the importance of living personal lives that are public demonstrations of the truth of our faith. Consider, for example, what Jesus says in the Sermon on the Mount:
"You are the light of the world. A city built on a hill cannot be hid. No one after lighting a lamp puts it under the bushel basket, but on the lampstand, and it gives light to all in the house. In the same way, let your light shine before others, so that they may see your good works and give glory to your Father in heaven." (Matthew 5:14-16)
Jesus says that we are to live in such a way that people see our behavior and give glory to God. Our "good works" could surely include matters we might think of as private: how we treat our families, how we use our money, etc.
In fact, it is often the things we do in private that have the most power to reflect well upon God . . . or poorly. Remember the case of Ted Haggard, the former evangelical pastor and national religious leader who thought his private life was hidden from public view. When his secret life of illicit sex and drugs was revealed, not only was Haggard's life decimated, but God's reputation was tarnished. How much better it would have been for all if Haggard hadn't thought of parts of his life as securely private.
And how much better if Haggard had taken seriously a passage about leaders in 1 Timothy:
The saying is sure: whoever aspires to the office of bishop desires a noble task. Now a bishop must be above reproach, married only once, temperate, sensible, respectable, hospitable, an apt teacher, not a drunkard, not violent but gentle, not quarrelsome, and not a lover of money. He must manage his own household well, keeping his children submissive and respectful in every way– for if someone does not know how to manage his own household, how can he take care of God's church? He must not be a recent convert, or he may be puffed up with conceit and fall into the condemnation of the devil. Moreover, he must be well thought of by outsiders, so that he may not fall into disgrace and the snare of the devil. (1 Tim 3:1-7)
If you read through this list carefully, notice how many characteristics of a Christian leader have to do with personal life, that which we might consider to be private. These include how one uses (or abuses) alcohol and money, and how one manages his family.
Neither this passage from 1 Timothy nor the earlier passage from Matthew 6 would suggest privacy is not appropriate in certain contexts. But both passages at least make me wonder whether sometimes our obsession with privacy causes us to neglect the biblical call to live our whole lives in a way that honors the Lord. Yes, I would rather that my personal finances not become public (not that anyone would care). And, yes, I would rather not have my personal conversations with my wife and children show up on YouTube. But if either of these things were to happen, I would hope that what people saw would be boring rather than scandalous. Perhaps they'd even see a Christian trying to live out his faith in his daily life, however imperfectly.
Again, I'm not saying that we should be unconcerned about possible invasions of privacy from corporations and governments. But I am saying that we Christians might be better off if we were to spend more of our emotional energy seeking to live at all times in an exemplary way.