Yesterday I began a short series on the question: Why don't we pray for business? In particular, I'm wondering why Christians don't pray, in the context of corporate worship, for business institutions, business leaders, and those who work in businesses. We do tend to pray for other institutions (government) and people who work in the public or non-profit sector. But, at least in my experience, we don't pray for business in its many facets.
Yesterday I suggested one reason for this curious omission:
1. We don't pray for business because we don't pray for business. Our prayers are shaped by our experience of praying, so if we don't pray for certain needs, chances are we won't pray for those needs.
Today I'll offer a second reason.
2. We don't pray for business because those who lead us in prayer have not been trained to do so.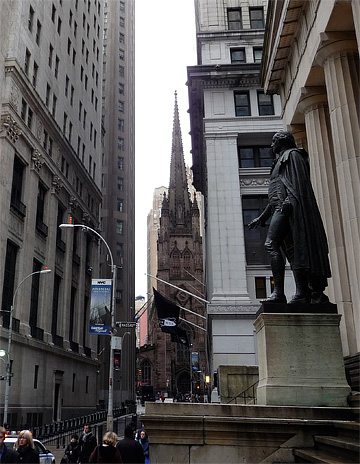 In most churches, pastors offer prayer in corporate worship services. In some churches, this responsibility is shared with others: members of staff, lay leaders, etc. Usually the pastors are responsible for training and encouraging those who lead in prayer. So, one way or another, the content of prayer in public worship is shaped by pastors. And pastors, by and large, have not been trained to include business among the topics for corporate prayer in worship. (Photo: Trinity Church, Wall Street, in New York City. To the left is the New York Stock Exchange. I imagine they pray for business at Trinity Wall Street.)
Pastoral training generally happens in two contexts: in seminaries and in churches. Here is where pastors-to-be learn how to pray and to lead people in prayer. Neither context, in my experience, emphasizes prayer for business. And this is not just my own personal experience. It is common to almost all seminarians and pastors who are seminary-trained. The lack of pastoral training related to business is documented by David W. Miller in his outstanding book, God at Work: The History and Promise of the Faith at Work Movement (Oxford, 2006). (For my review of this book, see my blog series: God at Work: Review and Recommendations.)
If praying for business is worth doing, then seminaries and churches should train pastors and all who lead in worship to pray in this vein. David Miller offers a number of recommendations for churches so that they might encourage people who work in business settings to live out their faith in the workplace. Among these suggestions we read:
A logical starting place for change is the place where clergy are trained. Seminaries and divinity schools should recognize anew the theological, practical, and pastoral importance of the workplace with a view toward training pastors to minister more intentionally and effectively to their parishioners in the business world and other workplaces. (p. 144)
This training would include prayer:
Clergy who wish to equip their people to integrate faith and work will also need to develop a ministry of public preaching and prayer that intentionally and constructively addresses all dimensions of [faith at work]. Sermons and pastoral prayers play a vital theological role as part of a ministry of integration to those in the business world, helping people to discover their vocational identity, resist splitting the sacred from the secular, navigate difficult ethical questions, and gain comfort for personal needs and hurts. (p. 147)
Of course the lack of previous training doesn't exempt those of us who lead in worship from learning to pray for business and business people. If we believe that we should be praying in this way, then we can surely teach ourselves to do so. Better yet, we can work with others, including the business people of our churches, so as to pray in ways that connect to the real-life challenges of those who work in business. I can imagine pastors sitting down with people who work in business and asking, "How might we as a church pray for you in our worship services? What are the concerns, needs, and challenges you face in your professional life?" Not only would the answers to these questions be helpful, but also the conversations would be encouraging to those who have often felt as if their work really didn't count for much in church.
But, before seminaries begin teaching future pastors to pray for business, and before we develop this focus in our leadership of prayer, we need to overcome another hurdle. I'll explain and try to surmount this barrier tomorrow.