Yesterday I began to offer some practical suggestions for pastors (and other worship leaders) who want to start praying for the marketplace and its workers. These suggestions were:
1. Look to Scripture for new insight into how business might be an essential element of God's business in the world.

2. Allow someone who works in business to share in a worship service how she integrates her faith into her work. Then ask the classic "missionary question" – "And how can we pray for you?"
I recognize that these two starting points are not easy ones for many pastors and churches. The first seems to require a considerable investment of time, while the second might push the edge of the envelope too far, too fast. Isn't there an easier starting point?
Indeed, there is. It involves one of the most obvious and basic of ministry strategies. Let me begin with an illustrative analogy. A new youth worker is hired by a church to serve the high school age students in the church and local community. What is job one for that youth minister? Get to know the students personally! Visit them in their world on campus (if possible), at ballgames, and at school plays. Meet with them one-on-one or in small groups. Don't preach to them in these personal meetings. Rather, ask questions and listen! Find out their thoughts, dreams, feelings, and fears. Get to know them!
This is exactly what pastors can and should do with the business people in their churches. Visit them in their worlds, their workplaces. Meet them for lunch or coffee, if at all possible on their turf. And then ask lots of questions and listen. Ask things like: What do you do in your work? How do you like it? What do you find rewarding about your work? Challenging? Frustrating? Exciting? What would you like me, as your pastor, to know about your professional life? How does your faith impact your work? How does your work impact your faith? Can you think of any ways I might be able to help and support you in your work? Can you think of any ways our church might be able to help and support you in your work? And, last but not least, how can I pray for you in your business?
If pastors were to have conversations with their members that involved questions like these, soon the pastors would be equipped to pray in worship for the marketplace and its workers. They would understand the challenges and opportunities faced by their members. But this would be only one sweet fruit of such pastoral visits. Other benefits would include: members feeling understood and valued by their pastors, pastors actually "getting" the real, day-to-day experiences of their members, members feeling freer to share their lives with their pastors, pastors knowing what issues to address in preaching, and so on and so forth.
There's one other benefit I would mention here. Pastors would have fun! I'm not kidding. During my sixteen years as Senior Pastor of Irvine Presbyterian Church, I made dozens upon dozens of visits to the workplaces of church members, and I thoroughly enjoyed myself. My parishioners seemed to enjoy themselves as well, by the way. They took pleasure in showing me their offices and boardrooms. They were glad to introduce me to their colleagues. I loved seeing my people on their home turf, in their places of struggle and victory, the places where they spent such a considerable percentage of their waking hours. I got the "feel" of their lives in a way that was much harder to obtain when they were only on my turf at church.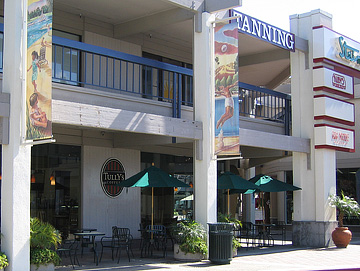 Though I visited many of my members in their places of work, and though I inevitably enjoyed these visits and benefited from them, and though they strengthened my effectiveness as a pastor, in retrospect, I wish I had done many more such visits. As my pastoral life got busier and busier with the incessant demands of leading a growing church, I began to make fewer field trips because it was much more convenient to meet folks in my office or Tully's (my favorite coffee place near the church, in photo to right). I still asked folks about their work lives and I still learned plenty, but I missed much of the non-cognitive learning that comes from being in a certain place, seeing the sights and smelling the smells. If a busy pastor cannot imagine how to make time for workplace contact work – and I realize that most pastors already have more on their plates than they can handle – at a minimum, the pastor should begin to ask church members (and others) about their work. This alone will lead pastors to a new depth of understanding and effectiveness in ministry, including praying for business.
Tomorrow I will offer a couple more practical suggestions related to praying for business. Meanwhile, I'm open to any suggestion you might give through comments or email.