I'll never forget the first memorial service I ever performed as a pastor. It was for a grandmother of one of my college students at Hollywood Presbyterian Church. I did not know this woman, but was the only pastor her family knew, so they asked me to do the service.
The service happened in a mausoleum at Forest Lawn Memorial Park in Glendale, California.  The woman who died had been cremated, and her ashes were placed in a small brass box that would be "buried" in the wall of the mausoleum. Because of all the hard, shiny surfaces, my voice echoed in a way I found to be quite distracting. But I pressed on faithfully, reading Scripture, praying, and offering some words of comfort and hope.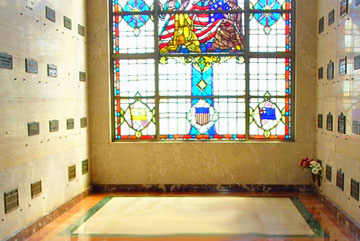 Then came time for grandmother's ashes to be placed in a small "cubby hole" in the wall of the mausoleum. An official from Forest Lawn placed the brass box in the wall. Then he gestured to a man standing nearby who held a portable drill in his hand. This man came, closed the place where the ashes had been placed with a piece of marble, and then proceeded to drill several screws in the wall to hold the cover. It was
very
loud and
very
strange. (Photo: a view inside one of the mausoleums at Forest Lawn, Glendale. Yes, the ashes of Michael Jackson are somewhere nearby.)
I was thinking about my first memorial service recently because of a story told by my friend Jeff. When his grandmother died, her body was cremated. During the memorial service, her ashes were gathered in a small brass box which sat at the front of the chapel. Jeff's brother brought his young son to the service, a first for the boy.
During the service, the boy turned to his dad and said, "Dad, is your grandma in that little box?"
"Yes," his dad replied.
"How'd they get her in there? Did they shrink her?" the boy wondered.
The dad, realizing that it was not the time or place to teach his son about cremation, answered, "Yes." And so ended the conversation.
After the service was over and the people were leaving the chapel, the boy turned to his father and said, "Dad, when I die, I want to go full-size, not like grandma."
That got me thinking. I really don't care whether, when I die, I go full-size or not. But I do know that I want to
live
full-size now, and for the rest of my life. I want to experience all that life has to offer, and give as much as I possibly can. I want to be full-size in my relationships, in my work, in my embraces, in my prayers. Someday, when I'm buried in the ground or placed in a hole in a wall, I want people to be able to say, "He lived well. He was full-size, all the way."