In my last post in this series I suggested that the Temple in Jerusalem was the paradigmatic thin place in the Old Testament. The Temple was considered God's house, metaphorically speaking, the chief place in which his presence dwelled. Unlike the Tabernacle, the Temple existed in one place, a place to which thousands of Jews made pilgrimage each year so they might experience God together.
It's important to note, however, that the Temple was not a thin place in the sense of a retreat center or idyllic garden of natural beauty. The Temple courts were places of busy crowds, especially during times of pilgrimage. The sanctuary of the Temple was off limits to non-priests, and the holiest place of all was entered only by the high priest only one day a year.
Jesus and the Temple
When we turn to the New Testament, we find continued respect for the Temple. Jesus' parents, for example, presented him in the Temple in faithfulness to the law (Luke 2:22-35). They made pilgrimage to the Temple every year at Passover (Luke 2:41). Jesus echoed Isaiah in regarding the Temple as a house of prayer (Luke 19:46; Isa 56:7), and he frequently made pilgrimages there.
However, Jesus also did and said things that seemed to undermine the sanctity of the Temple. His so-called "cleansing of the Temple" was not just a condemnation of its commercialization, but also a stab at the heart of its sacrificial functioning. Moreover, by forgiving sins under his own authority, Jesus' implied that the Temple and its sacrifices were not necessary any longer. Further, my speaking of himself with Temple imagery, Jesus also suggested that he was in some way replacing the Temple (John 2:19-22).
Jesus and Thin Places
In fact, Jesus, as the Incarnate Word of God, was the "God's house," if you will, in an altogether new sense. In Jesus, God came to earth to reveal himself more immediately and powerfully than in the Temple. Though the metaphor begins to break down at this point, Jesus was the ultimate thin place. Like the Tabernacle, he was not anchored to any one location, however. Yet as he moved around, God was exceptionally present wherever Jesus was present. Thus Jesus could say to those who were with him, "For the Kingdom of God is already among you" (Luke 17:21).
Given that Jesus was God in human flesh, we might think that places no longer matter at all when it comes to our relationship with God. But, surprisingly enough, Jesus himself seemed to seek God in special places. In Mark 1:35, for example, we read: "In the morning, while it was still very dark, he got up and went out to a deserted place, and there he prayed." As his popularity increased, Jesus "would withdraw to deserted places and pray" (Luke 5:16).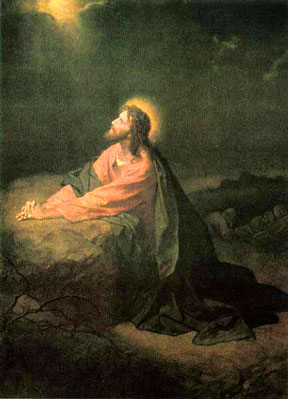 The example of Jesus suggests that certain places can help us pray more faithfully, and perhaps even experience God more intimately. These places are "deserted" – free from the bustle of ordinary life. Notice, however, that Jesus appears to have many such thin places. We have no evidence that he frequented one or two particular spots. (Photo: Christ in the Garden of Gethsemane by Hoffmann)
Thus Jesus' pattern of prayer supports the idea that certain places might help us connect more effectively with God. But we do not find in Jesus the idea that certain particular places are necessarily and essentially thin. Rather, any place of quiet and distance from civilization can become a thin place if one goes there to spend an extended time with the Lord.