This past weekend I participated in the Ivy League Congress on Faith and Action, sponsored by the Christian Union. It happened at the Omni Hotel in New Haven, Connecticut, home of Yale University. Some 400 Ivy League students from all eight campuses gathered to be challenged and encouraged to live our their faith in the world. (The Ivy League consists of Brown, Columbia, Cornell, Dartmouth, Harvard, Penn, Princeton, and Yale.)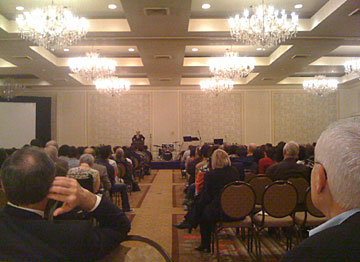 The Christian Union assembled an impressive group of presenters, including:
The Baroness (Caroline) Cox, member of Britain's House of Lords
Ken Costa, international banker and author of God at Work
Richard Stearns, president of World Vision (Photo: Ken Costa speaking to the Congress; Richard Stearns is seated just to the right of me.)
Steve Douglass, president of Campus Crusade
Darrell Bock, author and professor at Dallas Theological Seminary
Michael Lindsay, author of award-winning Faith in the Halls of Power
I was invited to participate on a panel to talk about professional ministry.
Many of my readers will not be familiar with the Christian Union since it is a relatively young ministry. Founded in 2002 by Matt Bennett, the Christian Union has the following mission:
The mission of the Christian Union, by God's power and with the help of other ministries, is to change the world by bringing sweeping spiritual transformation to the Ivy League Universities, thereby developing and mobilizing godly leaders to transform all sectors of society.
Whew! Now that's what I call a vision!
In particular, the Christian Union has established as a goal "to see 20% of students, faculty and staff involved with a Christian ministry by the year 2020." This goal responds to the sorry fact that only 3% to 8% of Ivy League students participate in any Christian ministry. The percentage for faculty is even lower.
Why focus on the Ivy League? Here the Christian Union has a pragmatic vision. It recognizes that graduates from these universities are disproportionately influential in the world. (Consider the fact that eight of nine Supreme Court Justices graduated from Ivy League Schools, as did George H.W. Bush, Bill Clinton, George W. Bush, Hillary Clinton, and Barack Obama. FYI: John McCain graduated from the Naval Academy.) If students of the Ivy League can be drawn to Christ and encouraged to live out their faith in action, this will have a major impact on the world, according to the Christian Union.
I have known about the Christian Union for some time, but this was my first direct experience of this ministry and its people. I was impressed by the quality of people involved with the Christian Union, their talents and commitment to Christ. Moreover, I was glad to see the breadth of their vision. Students were not being challenged to go only into "the ministry," i.e., full-time Christian service, but rather to live their lives in whatever realm or field as disciples of Christ.

The Christian Union also brings a refreshing willingness to team up with other ministries. Sometimes campus ministries (InterVarsity, Campus Crusdade, Navigators, etc.) can feel as if they're in competition with each other. And churches quite often feel as if they are in competition with the parachurch ministries. This sort of narrowness is nowhere to be found in the Christian Union. In fact, quite the opposite is true. They welcome partnerships with all sorts of like-minded Christian organizations.
As I mentioned above, I was involved in this Congress on Faith in Action as a member of a panel on "Ministry." Tomorrow I'll say a bit more about this panel and our presentation.