Excerpt
He said to them, "Why are you afraid? Have you still no faith?"
Mark 4:40
Click here to read all of Mark 4:35-41
Prayer
Dear Lord, thank You for this passage from Mark. I need it today. You know that. Like Your disciples, I have experienced Your power in so many, many ways. And, like Your disciples, I can become afraid, as if somehow You had forgotten about me or Your power was inadequate to overcome my problems. I know this is silly, and, more than silly, faithless. Forgive me, Lord, for doubting You.

Help me, I pray, to trust You at all times, even and especially when I'm facing challenges too big for me. Help me to turn to You again and again, to pray without ceasing, and to receive the peace that You alone can give. May I remember Your faithfulness, Your awesomeness, Your majesty. May I place my life in Your hands each day, knowing that You hold me and will not let me fall.
Questions to Ponder
Are there times when you are like the disciples? Times when you feel afraid, as if God weren't there to help? What do you do in these times?
What helps you to trust God? How might you trust Him even more this day?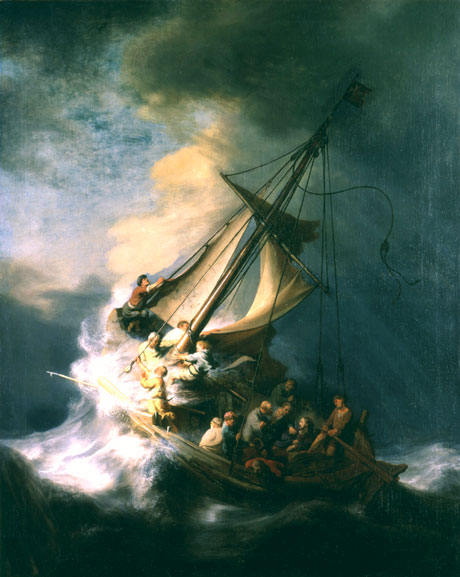 Storm on the Sea of Galilee, by Rembrandt, 1633