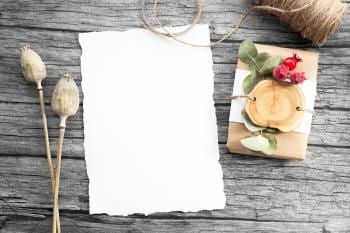 Today's economy has had an effect on nearly everything we do. From the type of home we live in all the way to the kind of gifts we give, our budget seems to be like an overbearing tyrant that dictates what we can do. The good news is there are ways to work with a tight budget that still allows for us to set up a comfortable home and to give meaningful gifts.
When it comes time to give a gift to your loved one you have to consider what he or she cares about. Let's face it, we all like to know that we are loved and we like to eat. There you go, work with that in some way to create a wonderful gift.
First of all, there is no better gift than a message from the heart about how much your loved one means to you. This could be a hand written note on a beautiful piece of stationery or even a store bought card that sends just the right message.
There's also a company that delivers 'messages in a bottle'. This is a great way to send and share your thoughts. Or you could search online for poems that are meaningful to you. Then you could use that as your message. Or another idea is to simply list the things that you love the most about your special someone. One more thought is that of writing a sort of journey that describes how you met and some of your most inspirational moments shared.
This could be done in a scrap book sort of fashion or as memoirs. The idea is to not only describe the moment in time but to also include how you were feeling and what you may have been thinking at the time. For example, you might mention something like the fact that when you met you thought your partner had the most beautiful smile you had ever seen and how it has only grown more special to you over time.
Though you have to admit receiving any kind of gift is a great feeling, there's something extra thoughtful about custom gifts. As someone who loves a good custom piece, I can attest to how special it feels to own something with a personal touch.
When it comes to food you have lots of options. You could dine out at a favorite restaurant or you could eat in. By preparing his or her favorite meal you are adding to the meaning of the gift. Plus, you can have the meal by candlelight and then enjoy each other's company in the bedroom.
But before the meal you could have planned ahead to allow for your love to enjoy a wonderful and relaxing shower or bath. Prepare the bathroom with everything needed to make it romantic or spa like. Pamper your partner with wonderful fragrances and soft lighting.
The meal can be as simple as appetizers or as detailed as you want to get. In fact, a bedroom picnic is always a good idea. The concept is simple and easy to pull together. Just gather some foods that are easy to eat and a bottle of wine, champagne or your favorite drink and picnic on the bedroom floor or in bed.
Combining the idea of a written message with the food concept is another idea and it will add to the heartfelt sentiment of your gift. Gift-giving on a budget is not that difficult, you just have to be a little creative.