I want to comment a second time about the Syrian conflict in light of reports about a recent stabbing that apparently took place in London.
When arguing for illegal unilateral UK airstrikes in Syria, pro-war speakers in Parliament said they believed Britain would be safer if it took part in airstrikes against terrorist targets in the country. Their understanding of making Britain safer doesn't seem to agree with mine, considering that normal members of the public are now at greater risk from terrorism related violence. After UK airstrikes in Syria began, intelligence chiefs said the country had become less safe and would now surely be attacked. Within days, a stabbing attack even occurred, with the perpetrator shouting his attack was revenge "for Syria".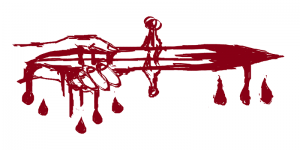 The British MPs who voted for UK airstrikes in Syria are malevolent or stupid. They have imperiled the public, while demonising anyone who opposed war as a "terrorist sympathiser". Maybe they were rather different in their meaning of "safe", and actually meant keeping Britain's leading role as a military power and arms exporter "safe" while putting the general public at greater risk. Always we bomb a distant country, whose people have never in fact done anything to harm us. What Syrian has ever come to Britain to murder British people? What excuse have they had before now, to commit such an attack? I have tweeted recently that this war doesn't represent British people, but is the work of a few old white men stuck in an backward, nationalist way of thinking who have no understanding of the dangers of the modern world. Once their generation has died off, and the minority demographic and youth demographic are larger, only peacemakers will be able to succeed as politicians. The warmongers and wrongheaded "national security" fanatics of the past will disappear along with their pointless violence.
The people of Britain in fact have no interest in the UK airstrikes in Syria that were announced by the government. Those politicians were not elected to do this, and the fact they abused their office to enter into a war their constituents don't support shows how hollow their talk of bringing "democracy" to Syria always was. They don't even believe democracy works in Britain, and are willing to reject the British people as terrorists and subversives if they challenge the state's policies.
I knew this would happen, so it does not surprise me one bit and I have no sympathy. I have only sarcastic remarks to offer. This may seem cold, but the ones you should be demanding an apology from are the politicians in the House of Commons who directly voted for the stabbing to take place in London, apparently as a necessary cost to make us all "safe". They voted for UK airstrikes in Syria, they thrust the ordinary people in the streets into the path of a knife, while they cower behind security cordons and bullet proof glass from the nightmare they created. Of course, over the following days we'll hear a different story from the warmongers. They'll not accept the attack as a refutation of their claim that we are now "safer", but will use the incident to justify more random UK airstrikes in Syria and more hostile totalitarian surveillance, which in turn will be returned by even more stabbings and eventual terrorist massacres on British soil. Nothing will be learned, as usual. Wrongness is fractal and spreads fast in the houses of people who think they're safe.
Contradicting values held up on different altars are to blame for the absurd situation of terror and fear-mongering in the West today. For Britain to on the one hand acknowledge that the future is multicultural and we must accept Muslims and their sensibilities, yet on the other hand relentlessly argue that their lands should be bombed, divided and pillaged, is absolutely and unforgivably insane. It is an ideological crack in the foundation of a state, and could bring the whole edifice down. Britain's own future could look very much like the battlefields of Syria, or like France where the far right is now on the verge of taking power. If we refuse to see fractures in society, and how cultural tolerance and patriotic warmongering cannot be reconciled, the state will eventually lose the confidence or consent of all sections of society, and collapse.
I'm firmly in favour of cultural tolerance. I believe it is the only future in a world of dwindling resources and growing potential for destruction. Moreover, the parochial nationalist model of state is too far behind Britain and foreign communities are too integrated with our own society for us to turn back now. For the far right to take power in France or Britain would be a calamity, alienating all the youth and jeopardising the fabric of society. If it didn't lead to war on the streets, it might lead to worse: the detention or expulsion of millions.
It isn't necessary for countries to disintegrate under the pains of mutual terrorism and intolerance like happened to Yugoslavia or Lebanon, or what is happening in Syria and Iraq today. It is alternatively possible for larger national units and unions to be formed, but the commitment to tolerance therein must be absolute. Stability, in a political sense, is today impossible to achieve through sectarianism or the rejection of foreign people. That is only a course of destabilisation. The nation states of Europe are long dead in the pages of history, and not worth defending. Tolerance, which requires the renunciation of nationalist wars of "national security" either against one's own people or foreign "terrorists", is the only way to prevent a permanent state of emergency and eventual disintegration of the modern state.
At present, Western countries are to be slowly ripped apart over the decades by their hypocritical commitments to simultaneously bomb foreign peoples' homelands and invite them to be resettled in Europe and North America. Western governments must decide whether they are fascists or humanitarians. One course must be chosen over the other and I advocate the humanitarian course as the only sane option.