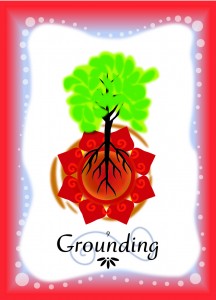 Friday Wisdom is shared from Christine Agro's Conscious Living Wisdom Cards (Special Moms' Edition) Each Deck has 42 cards and a booklet that offer insight and guidance for parenting consciously.
Grounding Card #9 in The Conscious Living Wisdom Cards (Special Moms' Edition)
This is one of the most supportive and empowering tools you can teach your child. When a child learns to connect to the earth the develop the ability to manage their own energetic experience – fear, anxiety, stress, worry or even feeling hyper or out of control. Talk to your child about the power that connecting to the earth holds and introduce a few different ways that they can connect – including just going outside and walking in the grass barefoot, or laying on the ground itself.
If you haven't explored grounding yourself, you might want to play with it yourself before you introduce it to your child. I find it's always helpful to understand what you are offering, before you offer it.
Here is my Conscious Living Wisdom Card text for Grounding:
For You
When we are grounded, we have an energetic connection to the Earth that helps our body know that we are safe. The body responds to this sense of safety by experiencing calm, focus and balance. When we are grounded, it is then that our own Spirit, or higher self, can be present within us and it is then that we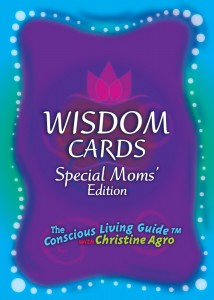 can live life consciously. If you are spinning your wheels or jumping from one activity or thought to another, now would be a good time to check the state of your grounding. Grounding is simple: Imagine a cord or a beam of light that connects to your tail bone and extends all the way down to the center of the earth. This grounding cord links your physical body to the earth and will help connect your Spirit and your body, in turn creating focus and balance.
For Your Child
Safety is an important factor in a child's life. A sense of safety enables children to move through this world and explore it. If you make your child aware of grounding and give him a simple tool to achieve it, you will empower him to take control of his energy and create the internal sense of safety that he needs. With a young child, you can use a playful process: Ask him to imagine that roots are growing from his feet into the ground, like a tree. If your child is older, teach him the grounding tool described in the For You text. A grounded child will not only feel safer, but he will also feel more confident and have a greater ability to focus.
Grounding #9 in The Conscious Living Wisdom Cards (Special Moms' Edition), Illustrated by Samantha Bachechi, Creative Medium LTD (C) 2010-2012 Conscious Living Unlimited LLC
**A note about The Conscious Living Guide Wisdom Cards (Special Moms' Edition): There are 42 cards in the deck and a guide book. The guide book includes insight for you which is meant to help you live life more consciously as well as insight for your child, which is meant to help support you in your Conscious Parenting.
*Additionally, to avoid the awkwardness of saying he/she all the time, I have picked one gender to identify in each card.
© 2012 Christine Agro
Come join me for free at The Conscious Mom's Guide for insight, guidance, support and a growing community interested in Conscious Parenting.
Have questions about your child or need support? Christine offers private readings as well as on-line support at The Consicous Mom's Guide
Christine Agro is a clairvoyant, naturopath, Master Herbalist, conscious mom and author of 50 Ways to Live Life Consciously as well as of The Conscious Living Wisdom Cards (Special Moms' Edition). Christine is founder of The Conscious Mom's Guide , a membership site where she helps support you on your own journey of living life consciously and on your journey of being a Conscious parent. You can also join Christine on Facebook. To contact Christine, invite her to speak or to schedule an appointment with her please email her.