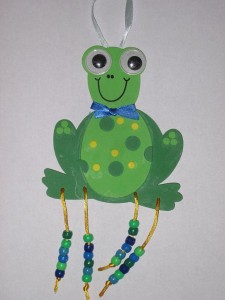 Caidin got a bag full of foam bits and beads at a birthday party. It's been sitting in our 'catch-all' draw for several months now, but a few nights ago (as a bedtime delay tactic) he got it out and asked me if he could put it together. I asked him what he would need to do it and he said 'just some glue.'
'Ok, but this is your project,' I said. 'Ok, Mom.' He worked through piecing together quite a bit before he called me for some help.
When I got to the construction scene, I found some green object completely saturated in glue. It made me laugh. Kids love to use a lot of glue. I said, 'well, first of all, this is too much glue. You only need a little for things to stick.' 'Really?' he asked incredulously. He was also upset because the green foam was barely visible through the massive coating of glue. I suggested he get a damp paper towel so that we could wipe off most of the glue. When I told him that the glue would dry clear, he was surprised.
I started thinking, 'we haven't played with glue enough I guess.'
It's amazing though, Caidin has this reaction to many things from tooth brushing to face washing to glue using, things just seem 'new' to him, things that seem to be just second nature to others. In any event, it's both an endearing and sometimes mind boggling aspect of who Caidin is.
Once we got the glue cleaned off, it became clear to me that the foam pieces were a frog. I showed Caidin how to put just a dab of glue on the pieces to get them to stick and eventually the whole project was finished. Then it had to sit overnight to dry.
In the morning Caidin was eager to check his project. As he surveyed his creation, he exclaimed, 'You're right, this glue does dry clear!'
I chuckled to myself at his surprise and could hear him one day sharing with his own kid that white glue indeed does dry clear.
This morning I took a Boot Camp exercise class for the first time in a century, or at least it felt like it had been that long. In between squats and lifts and hoping I wasn't going to die on the studio floor, I found myself thinking about the lessons Caidin learned from glue that night.
Here they are:
Too much is not a good thing
Just because it's invisible doesn't mean it isn't strong
Sometimes things stick and sometimes they don't
Most messes you can clean up, if you don't leave them too long
You can create something wonderful out of pieces, if you just figure out how to connect the pieces.
Sometimes you have to let things sit before they are ready
I think we should play with glue more. I'll tell you more about my Boot Camp experiences if I go to another class.
(C) 2012 Christine Agro
Come join me for free at The Conscious Mom's Guide (TCMG).
Looking for guidance, support and insight? Join one of my weekly programs (Pre-Pregnancy, Pregnancy, Parenting and Peace-Of -Mind). All programs run through TCMG. Sign-up for a free membership and then check out the different program They are affordable and can make a world of difference!
Have questions about your child or need support? Christine offers private readings as well as on-line support at The Consicous Mom's Guide
Christine Agro is a clairvoyant, naturopath, Master Herbalist, conscious mom and author of 50 Ways to Live Life Consciously as well as of The Conscious Living Wisdom Cards (Special Moms' Edition). Christine is founder of The Conscious Mom's Guide , a membership site where she helps support you on your own journey of living life consciously and on your journey of being a Conscious parent. You can also join Christine on Facebook. To contact Christine, invite her to speak or to schedule an appointment with her please email her.