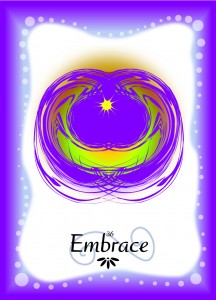 Friday Wisdom is shared from Christine Agro's Conscious Living Wisdom Cards (Special Moms' Edition) Each Deck has 42 cards and a booklet that offer insight and guidance for parenting consciously.
Embrace Card #36 in The Conscious Living Wisdom Cards (Special Moms' Edition)
Today I drew the Embrace Card.
As with many of the cards in my Conscious Living Wisdom Deck, the Embrace cards speaks of three aspects of 'embrace'; offering insight and guidance in meeting your life with open arms; embracing wholeheartedly who are children are, and reminding you that a hug can say so many things and among them are 'hello', 'your O.K.', 'I love you', and 'I'm happy you're here.'
The Embrace Card is a fitting card for the last day of August and the end of summer. School starts next week and both parents and children have new experiences in front of them . For kids: new teachers, new classmates, new schedules, new information – there will be no shortage of 'new'. For parents: not only new schedules, but more importantly the changes our children will experience and test as they take yet another step toward growing up.
As all this newness comes flooding in you will have many opportunities to explore the three aspects of 'Embrace'.
Here is the text from the Conscious Living Wisdom Card Deck Booklet: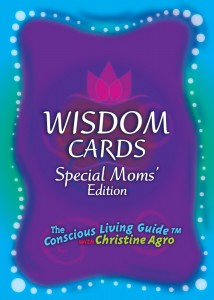 For You
This card is asking you to embrace your life rather than push it away. Embracing is a way of welcoming in and enfolding. If parts of your life are out of balance, find a way to embrace them, or love them, for what they offer you. The more you push them away, the greater your resistance becomes and, interestingly, the more energy you create around that piece or thing you are trying to push away. Everything in our life is there to teach or show us something about ourselves, the choices we make and the way in which we choose to live. Embrace what you have created, even if it isn't what you want, and once you've embraced it, set about changing it and creating what you do want.
For Your Child
Sometimes words are not required. Love, understanding, acceptance and reassurance are all conveyed through an embrace. Remember to embrace your child with conscious awareness and be present when you are hugging. This is an opportunity to communicate volumes without ever saying a word. A second message in this card is to embrace, in the sense of accept, who your child is. He may be smart and his ability to make connections between pieces of information may also make him critical; or he may be sensitive and this sensitivity may make him emotional. Embrace who your child is and help him find balance in the elements that contribute to his personality and nature. And yet a third message offered by this card relates to embracing the world. Children have a natural inclination to approach the world with open arms, until they experience something that gives them pause. As a guide to your child, be conscious of the places where your child may want to close off to an experience and help him remain open. To do this, point out the important lessons in experiences and offer your child tools such as grounding so he can learn to manage the energies created by his own emotions and experiences. Learning young to embrace life and manage energy will give your child a great head start.
Embrace Card #36 in The Conscious Living Wisdom Cards (Special Moms' Edition), Illustrated by Samantha Bachechi, Creative Medium LTD (C) 2010-2012 Conscious Living Unlimited LLC
**A note about The Conscious Living Guide Wisdom Cards (Special Moms' Edition): There are 42 cards in the deck and a guide book. The guide book includes insight for you which is meant to help you live life more consciously as well as insight for your child, which is meant to help support you in your Conscious Parenting. *Additionally, to avoid the awkwardness of saying he/she all the time, I have picked one gender to identify in each card.
© 2012 Christine Agro
Come join me for free at The Conscious Mom's Guide. I uploaded two new videos – one a pre-pregnancy reading I did with a lovely miracle ending and the other is a Conscious Parenting Tip – Stop, Listen and Interact. You'll also find the Conscious Parent Forum where you can ask, share, receive support and inspire others.
Have questions about your child or need support? Christine offers private readings as well as on-line support at The Consicous Mom's Guide
Christine Agro is a clairvoyant, naturopath, Master Herbalist, conscious mom and author of 50 Ways to Live Life Consciously as well as of The Conscious Living Wisdom Cards (Special Moms' Edition). Christine is founder of The Conscious Mom's Guide , a membership site where she helps support you on your own journey of living life consciously and on your journey of being a Conscious parent. You can also join Christine on Facebook. To contact Christine, invite her to speak or to schedule an appointment with her please email her.