Today is Day 11 of my 31 Days of Self-Love posts to celebrate Self-Love Month with suggestions for jump-starting your own self-love and joining The Self-Love Movement™.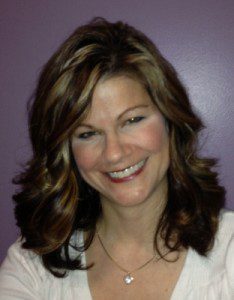 When I met cancer survivor an Self-Love Ambassador Cathy Hamilton, I was struck by her positive attitude about getting through a cancer diagnosis. Cathy is a  happiness coach,  7 Levels of Wealth Manifestation Coach and Founder of Happy Tappy Girl.  She bridges the gap between health, wealth and happiness. She shared  share some of her story and what she teaches her clients about staying happy when you have cancer in her inspiring article, Strengthening Your Spirit with Happiness After a Cancer Diagnosis. Today she shares her thoughts related to self-love.
. If you know anyone who has cancer, please share this article! Cathy is a true inspiration.
What Do You Say When You Look at Yourself in the Mirror?
by Cathy Hamilton
Hello Fellow Life Enthusiasts!
When I was going thru chemo I became really creative at finding ways to make myself feel good.  Anyone who has gone thru chemo knows there are times when "feeling good" is a bit challenging to say the least.I show women that have an experience with cancer and are struggling with the affect it has on their relationships, their self-image and overall health and happiness how to connect with their inner super hero and live their life with power, confidence, freedom and excitement.
And
I show people who want more wealth in their life how to recognize and release what is keeping them stuck so that they experience the freedom to create an abundant, healthy, authentic and joy based life.
What I especially love about the work I do is that regardless of whether you are working through your health issues or wealth issues it automatically has a positive impact on the other.
A technique that I use with all of my clients and that I use myself is mirror work.  I learned about mirror work from Louise Hay decades ago but didn't really put it into practice until I was being treated for breast cancer.
Cancer as well as all of the treatments that can go along with it can play some tricks on your mind.  So it became increasingly important that I was pumping myself up with as much love as I possibly could and it had such positive impact on me that I still use it every single day.  It is amazing how much better you feel when you speak lovingly to yourself.  It is also amazing how you don't realize the negative things you are saying to yourself – especially when you are looking in the mirror – until you put your focus on it.
So here is what I started doing.  Anytime I was in front of a mirror I would say something nice to myself – I can remember looking at myself with my bald head and missing eyebrows and eyelashes and say – "look at how cute you are, you are absolutely beautiful, you are so brave, I adore you, I love you" and any other positive thing I could think of.  Then I would ask myself "How can I love you more today than I did yesterday?" or "How can I make you happy today?".
I started having a lot of fun with it and have since gotten very playful about it.   I wink at myself, smile at myself and say things like "can you be any more awesome?".
So many times we wait for other people to say the things that we want and need to hear in order to make us feel good about ourselves and reassure us that everything is going to be OK.  We forget that we can say these things to ourselves.  We are our biggest cheerleaders and our true champions for happiness.
If you are not used to doing this type of work it may feel a little awkward at first.  That's OK, just start where you are and take little baby steps with it.  Maybe start by just looking deeply into your eyes and then work your way up to saying "hi".  If you are having a hard time saying anything positive – you can say things like "I am willing to love you more today than I did yesterday" or "I am open to the possibility of thinking that you are amazing".  If you continue to struggle with it go ahead and add as many "willings" or "open to the possibilities" that you need to in order to be able to say it.  It would sound like "I am willing to be willing to……" or "I am open to the possibility of being open to the possibility of……".
Little by little it will get easier and easier.
Let us know some of loving things you come up with to say to yourself.  Get creative, have fun and most of all love yourself!!!
*************
Join The Self-Love Movement™! Take the 31 Days of Self-Love Commitment—"I commit to do my best to do something loving for myself, however big or small, for the next 31 days." and get my book, How Do I Love Me? Let Me Count the Ways for free at http://howdoiloveme.com. Read my 2013 31 Days of Self-Love Posts HERE. Join the Self-Love Movement™! on Facebook.