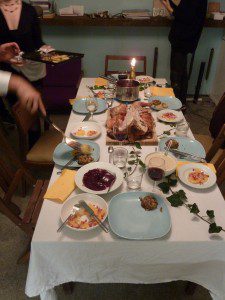 Every year many Americans gather with their families and friends on the fourth Thursday in November. Often it's a time to pig out eating lots of goodies and having fun. But the true spirit of Thanksgiving is one we should carry with us every day—gratitude. I like that this holiday reminds us to count our blessings give thanks for them. But what does that mean? Not just eating turkey or pie! To give thanks, it's best to take a little time to think about all the good in your life.
Whether you celebrate the holiday or not, set aside 10 minutes to think about all the things in your life you should be grateful for. I try to do it every day but I know how hard it can be to remember it. I'll spend Thanksgiving weekend at my sister's house in the Berkshire Mountains and I'm so grateful for that. I love being in the mountains. I'm grateful for crisp clean air and steep hills to exercise on. I'm grateful the food–yummy turkey and all the fixings–will be good and I can exercise at least some of it off.
Almost every day I post my blessings on my Conscious Gratitude group on Yahoo, which you can join. I love reading what others are grateful for and to have the reminder to post my own. However you do it, find ways to be conscious of your blessings.
Whether you actively celebrate the holiday or not, I wish you all the blessings of Thanksgiving!
***************
Take the self-love challenge and get my book, How Do I Love Me? Let Me Count the Ways for free at http://howdoiloveme.com. And you can post your loving acts HERE to reinforce your intention to love yourself. Read my 31 Days of Self-Love Posts HERE.
Please leave comments under my posts so we can stay connected.