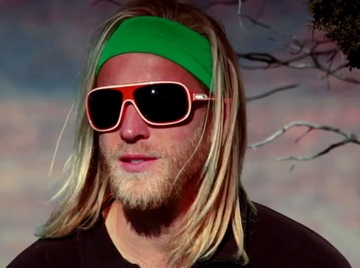 The best thing about running a business like mine is that you come into contact with the most incredible people in the world. Because everything we do is based on doing good, giving back and making an impact, everything we feature has a story to it.
Every week we will highlight a person who is inspiring – they may have worked through a tough issue in their life and come back stronger, or are dedicating their lives to curing cancer; they may be living in New Orleans re-building housing or a mom working two jobs to feed her kids and volunteering at the local soup kitchen to help others. The stories are endless and we are lucky to tell them.
Meet Sam Fox.
Who is he? Sam is a 23-year-old who has completed an unbelievable, treacherous, and inspiring challenge: running the entire 2,650 miles of the Pacific Coast Trail in less than 65 days in honor of his mom who has Parkinsons disease. He finished this past October in 61 days averaging 40 miles a day for two months.
Did you hear that? 40 miles a day for two months! That's nuts! But Sam trained all year —and was determined to complete the challenge which started on August 25, 2011.
Why did he do this? His run was a charitable endeavor organized by his foundation, Run While You Can, to raise awareness and money for Parkinson's disease research. Sam's mom, Lucy, was diagnosed with the disease more than a decade ago—and Sam started his foundation in her honor. The 22-year-old runner's goal raised $140,000 for the Michael J. Fox Foundation.
The hardest part of the run? The over 60 major mountain passes and past more than 1,000 lakes were daunting and sometimes impossible, not to mention filled with blisters, strained muscles and constant exhaustion.
RunWhileYouCan.org's blog chronicled Sam's adventure: the good, the bad and everything in between. Besides amazing photos and very witty commentary, you get an unfiltered look at the athlete and the challenge.
RunWhileYouCan.org. is still taking donations. Sam's goal was to reach $250,000 and he is working everyday to fill the gap. This is one special guy and a son we would all be proud to call our own.
P.S. – Sam is not related to Michael J. Fox but we're sure Michael will want to adopt him after this heroic mission!