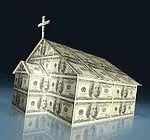 A mammoth auditorium. Multiple projection screens. Thousands of dollars in sound, video, and lighting equipment. A stage larger than most middle class homes, and more greenery and floral arrangements than you would find at a Home Depot garden center. And outside there was four acres of black-topped asphalt.
The only thing that distinguished this place from a performance arts center or a theater was the conspicuous acrylic pulpit at center stage and the twenty foot cross hanging on the back wall.
Welcome toStonebridgeCommunityChurch, a 25,000 square feet, multi-million dollar facility in the absolute middle of no where. You could fit more people inside the sanctuary than are on its town's tax rolls.
For all of its grandeur, Stonebridge had apparently seen better days.  On the warm, sunny Sunday morning that I was there, they had barely fifty people in attendance. Half of those were in the worship band, positioned behind tripoded cameras, or massive sound boards. The two dozen or so that made up the rest of the congregation, well, we sort of rolled around inside all that empty space like BBs in a barrel.
When it came time to pass the plate, the pastor was especially earnest. It seemed it was getting more and more difficult to pay the church's bills. In fact, the mortgage payment was late. The pastor's appeal was direct: Without the "help of God's people," the church was in danger of defaulting, he pleaded. It made me wonder if these were the same people of God who had signed for the loan in the first place.
These are hard financial times. Very hard. Companies are closing. Jobs are being cut. Houses are being lost to foreclosure. It is as difficult a period as many of us can remember. And churches, obviously, are not immune. Giving shrinks, expansion plans must be delayed, and yes, some congregations even have a hard time hanging on to their property.
It is a sad state of affairs, especially for churches. Here's why: Wall Street tycoons, individual credit card holders, and shystering speculators are not the only ones suffering the blood-guilt of their greed. Pastors, church boards, and church building committees are guilty too.
"Come, let's build a great building to the glory of God," can come pretty close to the same words spoken as thetowerofBabelwas raised to the heavens. Especially when there's a seven figure mortgage attached to that building.
Consider this: The first Christians did not own church property, and it remained so for centuries. The majority of the world's Christians who gather for worship each week, do so in homes, in open fields, or in ramshackle shelters – not elaborate and mortgaged buildings.
Even our own forefathers understood moderation in such things. The old houses of worship built generations ago were built by the hands of the parishioners, typically on donated land, and hoisted into place in classic Amish barn-raising style.
Buying the most strategically centered piece of property in town didn't seem to be an objective. After all, they were building a church not a department store. And having a mortgage on the church? Such a thought was inconceivable.
Those who have gone before us understood well that when troubles come – within and without – the last thing God's work and mission needed was a huge financial millstone hanging around its neck.
American churches spend $19 billion a year (yes that is with a "B") on building construction and maintenance. That much money, spent every year on food and on education programs, could eliminate global starvation and malnutrition in less than a decade.
In these crushing times, wouldn't it be better for those of us in the church to pray and fuss over how we are going to keep up our feeding programs, our donations to African missions, and paying our teachers in the tutoring programs we run, rather than paying interest on lumber, two-by-fours, and real estate?
I read recently about a Western pastor preparing to leaveChinaafter a mission trip there. Having witnessed the simplicity and substance of these people he asked how we inAmericacould pray for them. The Chinese pastors answered, "Pray that we can one day own buildings and become like you."
The wise pastor responded, "This, I cannot do. Instead, you pray for us, that we might become more like you."