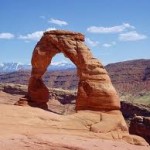 "I don't read that article by Ronnie McBrayer," I heard a critic say not long ago; a critic who did not know I was within earshot. "He thinks the Bible is just a bunch of stories."
Just a bunch of stories? There is no such thing as "just a story." Stories are the explanation for how we live our lives. Stories are passed generation to generation, person to person, as the clearest form of human communication we know.
Stories remind us of who we are, where we come from, and where we are going. How much more these stories of the Bible which are "living and active, sharper than any double-edged sword?"
Yes, I believe the Bible is a "bunch of stories," but stories that are so inspired and compelling that the reader is caught up in the great drama of God's revelation. So captured in fact, that we cannot remain outside observers, but find ourselves sucked in as participants.
My youngest son will not leave me alone while I work in my study. He peeps over my shoulder, peppers me with unrelenting questions, and climbs on my bookshelves. One day, while I tried to work at my computer, he plucked off the shelf a book aboutArchesNational ParkinMoab,Utah.
He was completely intrigued and just could not be quiet about it. So, I set my work aside, he climbed into my lap, and we began leafing through the pages. The questions poured from his mind and mouth like rainwater off a roof.
He asked: "Dad, have you ever been there?" I was able to answer "Yes." And I began telling the story ofArchesNational Park, along with my story of having visited there. I told him about hikes, pictographs, horseback riding, and friends I was with while there. I told him that these were more than pictures in a book – more than just a story – this was a very real place.
So Braden finally asked: "Can I go there too?" I answered, "Absolutely! Because, if you think this book (story) is good, wait until you experience the real thing for yourself."
This is exactly how the stories of the Bible can work in our world today. We pick the Bible up to read it and find ourselves overtaken by the drama, irony, and comedy it contains. We are with Adam and Eve in the garden. We have sailed with Noah in his boat of salvation.
We cry out with Joseph, betrayed and forgotten, our prayers powerless. We have found ourselves in those sordid characters of the Old Testament stumbling and bumbling like desperate men and women crossing the sea to come to aNew World.
We know what it is like to be a pitiful bunch of failures and a glorious group of victors. We have followed Jesus like those first disciples. We kill giants. We deny Christ. Our eyes have been opened by the Messiah. We have wept like a melancholic prophet.
The story of the Bible is our story – our family album – as individuals and as the church. Thus, we don't have to defend the "truth of the Bible." We are living that truth.
With Braden in my lap looking at the book aboutArchesNational Park, I could have talked to him about wind and water erosion, Entrada Sandstone, Paradox Formations, or the collapse of theColoradoplateau during the Jurassic period 135 million years ago that gave the arches their unique shape and character.
I could have dealt with the facts alone – and it would have remained as dead, scientific words on paper. Braden would have never asked the right questions. Instead, by telling him the story and the adventures contained in the book, and how I had experienced the adventure for myself, he now wants to participate in the same.
When people ask us what we believe about the Bible, we must find a way to invite them inside the story to live it for themselves. For if all we know about the Bible is that it is a book of religious knowledge, or even a spiritual "how to" manual, we don't know very much.
Frozen facts and cascading Scripture references aren't much of an invitation into adventure. But a story, well, a story is worth telling. A story is worth believing. A story is worth living.