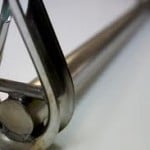 The late devotional writer and Catholic priest Henri Nouwen compared the leap of faith we must make to follow Christ to the courage of a trapeze artist. This was something Nouwen knew about first hand.
Nouwen traveled with the "Flying Rodleighs" for a time, drawing more than one spiritual lesson from the lives they lived. He said, like a high-flying trapeze artist, we must let go of the security we have had, to take hold of what is coming to us. And like a trapeze artist, we cannot do both at the same time.
Follow this line of thought. In the moment that a trapeze artist moves from one trapeze bar to the next, she must leave the relative security of holding on to something solid, something that has her confidence, and keeps her from falling.
Then she must stretch out for the bar that is coming to her. In those milliseconds, which probably seem like an eternity, she is hanging there in mid-air, with nothing. She cannot go back to the security she has known. Nor can he speed the next trapeze bar to her. It is an act of faith.
The life of following and knowing Christ is lived in those moments between the trapeze bars. We cannot go back to our former lives, the way we used to believe, think, and live. We let those things go in order to follow Christ.
But have we yet taken hold of Christ? No, we have not. As the Apostle Paul said in Philippians 3, "I do not consider myself yet to have taken hold of it. But one thing I do: Forgetting what is behind and straining toward what is ahead, I press on." This was something Paul knew about first hand.
You may remember that Paul was a religious walk-the-line, do-things-by-the-book, jump-through-all-the-right-hoops, make-God-proud kind of guy. A pure-blooded, pedigreed descendent of father Abraham and a practicing Pharisee, he was so committed to God that he declared war on the movement surrounding the followers of Jesus.
Paul first viewed the Way, as Christians first called it, a dangerous heresy that had to be stamped out. He put his energies into doing just that. But this highly motivated soldier of God, this religious zealot, convinced beyond any discussion that he was right and everyone else was wrong, had his life dismantled in a single moment by Jesus.
Acts 9 records Paul's much-celebrated conversion on theDamascusroad. He was on his way to arrest and imprison Christians when Jesus met him on the road in a blinding light. Paul's hardness of heart was melted and he became, in that moment, the greatest Christian missionary the world has ever witnessed.
In light of his experience with Jesus, what did Paul do with his former life and all of his spiritual accomplishments? Did he incorporate them into his new-found life with Christ? Did he hang on to all of it for emergency back-up should things not work out in his newly chosen life? No. He let it all go.
He ripped his diplomas off the wall and the frames shattered on the floor. The prized picture of him shaking the high priest's hand, he chunked in the garbage can. The letter of commendation from theJerusalemTemplefor his commitment to missions and theological orthodoxy, he wadded in a ball and zinged across the room.
The honorary doctorate from the Jewish academy at Tiberius, he burned in the wastebasket. He threw his family's crest and coat of arms, traced all the way back to Abraham, out the window. Why? He had to let it all go to take hold of Christ. That was the trade – the death-defying-mid-air gamble – he made.
Paul came to the realization that in light of Christ, his extensive religion and all his religious activity, as big as it was, was too small. His view of God was inadequate, insufficient. He learned that his God was undersized.
This Christ, who revealed who God really was, was so big and consuming that there was no room for anything else. So Paul stretched out to take hold of him.
Faith is not the game of playing it safe. Faith is living without a net. Not because we love the adrenaline rush, but because we can't go with Christ and stay where we are at the same time.