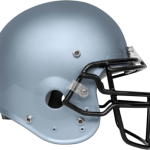 Sometimes we need to know that we are not alone; not unlike the little boy who cried out for his mother during a midnight thunderstorm. The wind tore at the windows. Thunder shook the house. Lightning flashed. His mother stepped into the bedroom and said, "Don't worry. Jesus is in the room with you." After a moment of contemplation the little guy answered, "That's well and good but I want someone with skin on."
My son Bryce recently came to understand that he was not alone. There were those with "skin on" willing to prove it. See, he got pretty upset at football practice. I can't say that I blame him. First, more instructions were being yelled by the coaches than could possible be understood at once: "Keep your head down. Stick your butt out. Make your shoulders square. Stay on your feet. Get lower to the ground." To comply with every command would have meant bodily contortions that would have envied the freakiest of carnival performers.
Further, it was hot. Real hot. Running plays in full pads under the Florida sun was enough to test the mettle of the hardiest pee-wee running back. Getting tackled on top of a fire-ant hill didn't improve Bryce's outlook any either. So, near the end of practice, just before the blood-and-guts sprints that left everyone in the end zone with dry heaves, Bryce walked off the field. He quit. But after an extensive negotiation, and not a few parental threats, he returned to the field.
The coach welcomed him back on one condition: There were still sprints to run. Everyone else had run them. Bryce would have to do the same. Bryce began to cry. His recommitment to the game started to crumble. I felt many different things at that moment. I wanted to rescue him from the pain, from the decision that he had made. I wanted to kick his rump for quitting in the first place. I wanted to run the sprints for him. Ultimately, I didn't have to do anything.
Just as Bryce was about to throw in the towel for good, a half-dozen of his teammates pulled themselves off the turf and said, "We'll run with you Bryce." They lined up and ran every step with him. I got so choked up I had to walk away. Why did these eight-year-old boys do this? Why would they punish themselves this way? Why take on someone else's embarrassment? Because Bryce mattered to them. Because they wanted to keep him on the team. Because they knew this was a time when he did not need to be left alone. The coach, and this parent, had enough good sense to realize that the lessons of solidarity and perseverance had been taught well enough. To say anything more would have ruined the perfection of the moment.
Our culture is more individualistic and cutoff from community than any other time in our collective history. Sure, we appear to be well connected, but are we? Do we have the kind of deep connection with others that keeps pee-wee football teams together? I wonder. We live in housing developments with hundreds of homes, but we do not know our neighbors. We chat with others from all over the world via the internet, but we do so hiding behind comical screen names and deceptive on-line personas.
Dilbert-like cubicle walls separate us from our closest coworkers. And eating a doughnut and sipping coffee with a near stranger before our Sunday School class begins each week is erroneously called "fellowship." But deep within us we have this real need. We have an itch that must get scratched. It is the need for connection with others. This is a great opportunity for our community's of faith. For what people need is not a religious corporation or a meeting in a church building.
A sermon and a few songs on Sunday, a little guilt, the passing of the plate, and a list of things we ought to be doing with our lives is largely irrelevant. But connection with other living, breathing people, a sense of belonging and connection – this is indeed, priceless. Maybe you quit playing the game a while ago. It may not always be easy to find, but there are people with "skin on" out there. They will be glad to have you back.