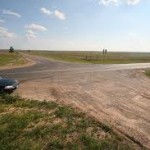 A farmer hired a man to work for him. He told him his first task would be to paint the barn and said it should take him about three days to finish. But the hired man worked very fast, and was finished in just one day. The farmer then instructed his hired hand to cut wood, telling him it would require about four days. The hired man, again completed the task quickly, and was finished in a day and a half, to the farmer's amazement.
The next task was to sort a large pile of potatoes. The farmer instructed the hired man to arrange the potatoes into three piles: 1) seed potatoes, 2) Food for the hogs, and 3) Potatoes that were good enough to sell at market. The farmer said it was a small job and judging by the speed at which he had completed the other assignments, shouldn't take long. At the end of the day the farmer came back and found the hired man had barely started. The potatoes were still, mostly in one large pile. "What's the matter? Why aren't you finished?" the farmer asked. And the hired man replied: "I'm sorry. I can work hard, but I can't make decisions!"
Do you have a hard time deciding? What color are you going to paint the kitchen? Which gift will you pick for your significant other for his or her birthday? What will be your major when you head off to school next year? Should you have wheat or sour dough toast with your scrambled or over medium eggs? It never ends. And all the information now available at our finger tips just makes it worse for some people. More information is just more to think about and more to convolute the whole process.
Here is some advice then: Don't think too long about things.  As Clint Eastwood once said, "If you don't know where you want to go, then you shouldn't be here. Don't screw things up by thinking about it."
We get paralyzed at the crossroads of decision because we are afraid of the consequences, or we fear disappointing someone who is counting on us, or the decision requires we set aside what we had hoped would come true, or a hundred other reasons. We know we won't get a second take with some things. And then as Christians, we get this added pressure of "God's will." We want to do God's will, what God wants us to do, and we think there will be a complete and total disaster if we miss the secret plan he has for us, so we twist and writhe in the anguish of our decision, never feeling good about any direction we choose.
I don't think there is an exact formula for finding God's will. And every situation is so personal, no formula would hold up any way. Besides, the hang-up for most of us is not in the making of a decision. More times than not, it is answering this question: Do we have the courage, faith and resolve to do what we know we should and could do?
We may not always feel as confident as we would like when we set out to do what we sense to be right. We may struggle with doubts and fears and second guesses; these all mingling with our faith in a kind of gumbo.  Still, faith is more about the choice we make, rather than the emotion we feel. So get started. Don't screw things up by thinking about it too long.