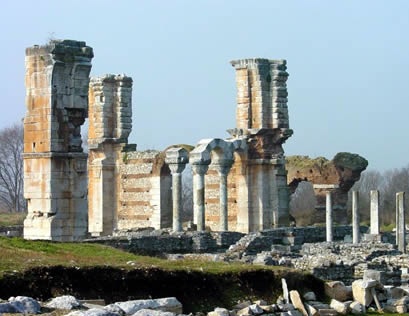 Missional work leads at times to prison work, but not by choice.
Instead of Paul feeling sorry for himself or fearing for his life, Paul and Silas praise God. I don't think this is about the power of positive thinking as much about knowing that God's mission is God's work and they are but God's missional servants.
God responds to their prayers and praise with a mighty work that astounds everyone and leads to the jailor's conversion. The jailor, astounded by the mighty work of God, asks how he can be rescued/saved, and Paul says it cleanly and clearly: "Believe in the Lord Jesus Christ." Or, believe Jesus is Messiah and Lord of all. Paul promises if he believes he and his house will be saved.

There's lots of discussion about this, and we could get derailed. I don't think the evidence is clear enough to say for sure that the children were baptized, that group salvation is merely through the representative head … what we do know is that Paul saw the jailor's conversion as connected to his entire household. The jailor is hospitable to Paul.
I'm not sure how to think about Paul's next requests. The magistrates, for whatever reason, decide Paul and Silas should be released and Paul won't let them do that without some justice being done and some apologies been given. It is perhaps easiest to think Paul and Silas were beaten so severely they never had the chance to inform the magistrates they were Roman citizens. The magistrates, to their credit, apologize for what they have done. They pleaded with Paul to leave; he does.
16:25 About midnight Paul and Silas were praying and singing hymns to God, and the rest of the prisoners were listening to them. 16:26 Suddenly a great earthquake occurred, so that the foundations of the prison were shaken. Immediately all the doors flew open, and the bonds of all the prisoners came loose. 16:27 When the jailer woke up and saw the doors of the prison standing open, he drew his sword and was about to kill himself, because he assumed the prisoners had escaped. 16:28 But Paul called out loudly, "Do not harm yourself, for we are all here!" 16:29 Calling for lights, the jailer rushed in and fell down trembling at the feet of Paul and Silas. 16:30 Then he brought them outside and asked, "Sirs, what must I do to be saved?" 16:31 They replied, "Believe in the Lord Jesus and you will be saved, you and your household." 16:32 Then they spoke the word of the Lord to him, along with all those who were in his house. 16:33 At that hour of the night he took them and washed their wounds; then he and all his family were baptized right away. 16:34 The jailer brought them into his house and set food before them, and he rejoiced greatly that he had come to believe in God, together with his entire household. 16:35 At daybreak the magistrates sent their police officers, saying, "Release those men." 16:36 The jailer reported these words to Paul, saying, "The magistrates have sent orders to release you. So come out now and go in peace." 16:37 But Paul said to the police officers, "They had us beaten in public without a proper trial – even though we are Roman citizens – and they threw us in prison. And now they want to send us away secretly? Absolutely not! They themselves must come and escort us out!" 16:38 The police officers reported these words to the magistrates. They were frightened when they heard Paul and Silas were Roman citizens 16:39 and came and apologized to them. After they brought them out, they asked them repeatedly to leave the city. 16:40 When they came out of the prison, they entered Lydia's house, and when they saw the brothers, they encouraged them and then departed.