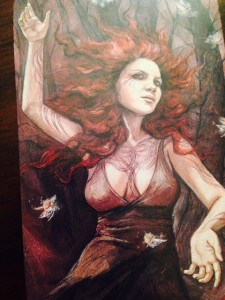 So I keep seeing the Six of Wands. For myself, for others. I KEEP SEEING THE SIX OF WANDS.
And I was telling a client today that ALL WANDS are about courage and confidence. The victory may not be a sure thing. The sure thing is that you should try. Be brave and TRY. And that's what creates the Sure Thing.
What is she holding in her hands? The Six of Wands from the Tarot of the Hidden Realms deck… her hands remind me of an energy-moving exercise like in Qigong. She's showing us her palms, which then reminds me of a gal in one of the chat rooms talking about using her palm center (chakra) as her magick wand and I love the fiery red haired Wands women of this deck, but what is she holding, what is she showing us?
So I draw another card: Temperance. Again with the important hands, with the mudras, but now the hands are away from us, not towards us. The hands are concerned with the water flowing between two cups. She looks down whereas Six of Wands looks up.
But the original question was: what is the Six of Wands fire lady showing us?? I think she's telling us to open. Our heart. The heart. Your heart. See with the eyes of your heart. And from there? You win. You already are in balance.  Open. Soften. See.
Astrologically speaking, the next two weeks are nuts. Just know that. You may be perfectly fine but everyone around you? It's a crap shoot. Unpredictable. We've got Mars making rough aspects this week, Saturn going retrograde, Mercury changing signs, the last Uranus Pluto square AND an Eclipse!
I drew the Eight of Pentacles for all this, your advice card. You know this guy right? He's very Virgo. Tinkering. I always think he looks like a shoemaker. I do a double take. It's Pentacles that he's hammering out. Making magick books maybe. Truth is he's doing more than tinkering puttering.
I know a woman who recently had surgery and she's in pain but she's recovering. Her surgeon says everything is fine, all X-rays are fine, surgery was fine, perfect, but she's got to do her exercises and stretches and possibly going to physical therapy soon and PRACTICE PRACTICE PRACTICE says the Eight of Pentacles.
Practice victory 🙂
Wishing you good cards xx