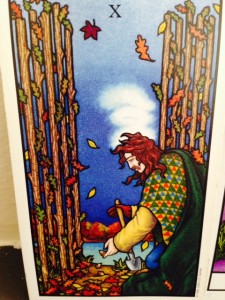 Truth is I had my doubts. They'd been dating on line for how long? A year? More? She didn't want to meet. He did. He was ready. She wasn't. And then a slew of health problems delayed it even more. But he stood by her (virtually), loyal and true.
And I'd done readings for this gentleman a few times in the last six months and as I type here I truly cannot remember what I've told him. I tend to forget what I tell people except in rare circumstance or if I work with someone a lot over time. But this morning I was finishing up an email reading for him and I believe they will likely meet soon-ish, before year's end, and he was asking me about the future.
"What should I be thinking about going forward?"
Other questions preceded this one and I answered them one by one, in his email, in between his words, as is my habit. And then I drew for the question above (using only upright cards).
First, the Ten of Wands. He is a widower and for the first time in many years (over 20 years?) he is getting urges to pack up his dear wife's belongings and put them out of view. I was using the Connolly deck and couldn't help but notice the beautiful fall imagery and the lone figure… burying? Planting.
I suggested that it was time to bury the past and I suggested a ritual. I also wondered if it might be best that he PLANT something. So something new could grow from the past. His new relationship. And symbolically put his relationship from 20 years ago to rest. Let it rest.
And then — how wonderful — I drew the Fool. How wonderful for a man, not a young man anymore, embarking on a new romantic-love-committment adventure with his Lady. New beginnings.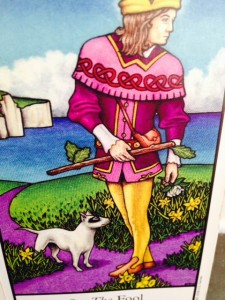 I realized that both cards were really saying the same thing, two sides of the same hopeful coin.
This is one way to let the burdens of the past go– I see fall is a hard time for you, above and beyond the anniversaries — it's just… a lonely-feeling kind of time but also poetic. Bury what is gone. Time to bury the past. But I do like the idea of burying something that will also grow anew — in a new form.
Also, and a great card here — free yourself. It's hmmm I drew two different cards here but it's the same message really… about freeing yourself from everything that has held you back — for so long. Taking a chance. Taking an adventure. Taking a risk. Being open to life. To doing things differently. To approaching life with a song. To be a little less Virgo 🙂 To leap. To live. New beginning. Idealistic. Allowing yourself this. To feel foolish again.
It's in two parts. First the Ten of Wands. Finish Line. End of Cycle. Then comes the Fool — being open to life. Moving on — getting unstuck — is not the same as abandonment.
I have high hopes for this couple. Maybe I'll even dance at their wedding 🙂
Love, Aliza
*
P.S. Are you interested in receiving a personalized Tarot/Astrology reading? I have a new Special going on for folks who find me through Beliefnet, a discount on my usual rates. Click here to get in touch. Also, Tarot class is happening this month and you can join us. Email for details.