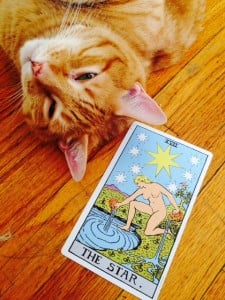 You know what? I don't even know what I mean by that. The trouble with Tarot is trust.
I was reading Yoav Ben-Dov's Tarot book on the ferry and taking notes on post-its — for the on-line Tarot class that I'm teaching, as well as taking notes for future blog posts and I wrote that phrase:
The trouble with Tarot is… trust.
My notes provided no helpful clues. "Querents don't want… THIS."
Don't want WHAT?
I had a Tarot mystery on my hands — of my own making!
Some notes that I had written below provided a little more. Not sure how it connected, but more nonetheless. This is how I move from tool/work to spiritual experience.
Lately I've been feeling a bit burnt out. Not burnt out by working with clients, but tired from the striving, trying to build a career, maintaining a career, confused about direction, and other questions too. For you astrology lovers, Neptune is square my MidHeaven. I'm just not sure about a lot of things. And I also realized that I'd lost… I don't know if the word is pride. But pride fits too! Pride in my accomplishments along with a loss of zest. Juice. I was not feeling at all zaftig. Experiencing a kind of complacency. Minor depression maybe. Exhaustion. After all, we moved less than two months ago and I'm still getting used to the new everything.
So I was thinking to myself how Tarot is more tool for me than anything — a divination tool yes, but… a piece of work. A piece of the work. And I have this desire to… switch that up. Because I miss the magic. So I read. I read books. I do classes. I take classes. Trying to inspire myself. Sometimes we need to do less. Sometimes we need to do more. Wisdom is knowing the difference.
And then I noticed, opposite my post-it, some lines I had underlined in my book and had written the word TRUST in bold ink beside that section… and AHA. I think I know now, in part, what I was getting at.
I was telling ME to trust.
See, in the underlined section, the author is talking about how a Tarot card will develop in meaning even DURING a Tarot reading. And I have experienced this. About a week ago I did a reading and I felt flummoxed by these two cards and I even felt embarrassed. I mean, here I am, the professional but I was afraid to say: hey… I KNOW there is somehing else here that I'm not getting yet. I'll email you when it comes to me. And even though I was afraid to say that I DID say that. And it was true. And the first meaning wasn't wrong. The first feeling wasn't wrong. But there was more. There was more I had to give over.
The trouble with Tarot is trust. That we DON'T trust.
It's a tricky business. No reader is 100% correct although I've been told I am right a lot. I've been doing this for a while now. You just get better by the doing. Another way it's tricky is that even I get Tarot readings and sometimes get news that I do NOT want to hear and I go into a tailspin. It is so so so so so important how you deliver what you get from the cards — honesty plus kindness plus anxiety-avoidance. Hold their hand and if need be, STOP the reading. Step outside the reading. Break rapport. If there is an upsetting outcome, discuss how it can possibly be avoided. Be supportive.
"Even at a single moment in the reading, a card can have more than one valid meaning." (Pg 38, from Ben-Dov's book).
Love, Aliza
*
P.S. Are you interested in receiving a personalized Tarot/Astrology reading? I have a new Special going on for folks who find me through Beliefnet, a discount on my usual rates. Click here to get in touch. Also, Tarot class forming later this month! Email for details.