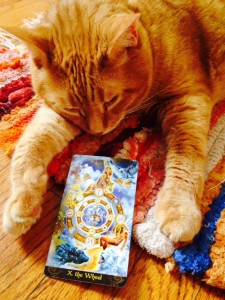 I want to share with you a little Tarot spread that I shared in the Tarot class this morning (and yes, you can still join us. My email is at the end of this post if you want more information).
I got this spread from my astrology teacher some years ago. You pull one card on the left. Another card on the right. And a card in the middle. What we are doing is "checking the energy between."
Example:
How does he feel about me?
Left side: you
Right side: him
Middle: !!!!! THE ANSWER. The Energy Between.
Now of course each of the cards will give you information but I do tend to privilege the middle card (unless I'm being guided otherwise). It's important to stay open — which leads me to another point.
In the Tarot class I'm going to be talking about the "open reading" — as given by Yoav Ben-Dov in his wonderful book Tarot: The Open Reading.
In such readings, we don't introduce frameworks before we pull. We wait and see. It might be a past, present, future spread. It might be the querent and two options on either side.
Truth is I like to work with both kinds of Tarot reading — precise intricate spreads and a more open style. In fact, when I first started reading Tarot, it was mostly "open" for me. I had some card-meaning background (from a few classes and a book) but otherwise I let my intuition fly.
This is the approach that I'll be suggesting in class. I think it's fabulously fun to read great Tarot authors and learn who thought what, but then to empty your head (remain open) once the cards and the querent are before you. Sound challenging? And I'm only just scratching the surface here, but that's the gist.
I don't think there is a "right" way to do this work; instead, we have preferences.
Have you tried the Open Reading?
*
P.S. Are you interested in receiving a personalized Tarot/Astrology reading? I have a new Special going on for folks who find me through Beliefnet, a discount on my usual rates. Click here to get in touch. Also, Tarot class forming later this month! Email for details.