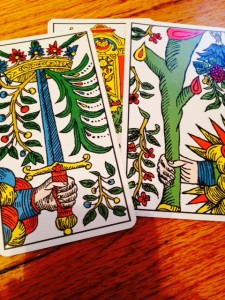 Each of the four Tarot "suits" is associated with an element. This is the most common division that I've seen:
Fire = Wands
Earth = Pentacles
Water = Cups
Air = Swords
Each element is connected to various ideas and things. You can probably think up a few of these on your own, even if you've never studied Tarot.
For example, the Cups suit relates to our feelings and our relationships, moods, love, social life, psychic stuff. Cups are containers, literally. They HOLD. They hold wine and they hold water. They can even hold your tears, if you are careful enough to cry over them.
When I see Cups I know there is an emotional link, an emotional circumstance. It could be good, healthy, dangerous, ambivalent, neutral.
Logic, practicality, and even fiery impatient passion are put aside when we see Cups — although some would argue that emotions ARE logical and fiery and often practical. I'd be one of those people. See, the elements tend to overlap. But let's save that for Lesson Two.
When you do readings — for yourself or for others — notice which elemental energies are showing up. And what those could mean.
Have you ever done a spread where you got ALL Cups? Or ALL or mostly Swords? I bet you weren't happy to see all Swords, right?
When I do readings, it's sometimes quick and dirty. Have to get straight to the point. I don't have time to philosophize usually, unless someone requests that or if it's a lengthy reading.
I'm there to give answers if answers present. Educated guesses. Sometimes I do larger spreads — like the Celtic Cross or the Tree of Life — but often it's three cards here and three cards there, clarifying cards to add shading. Smaller spreads for particular questions. Although these days I like to do a holistic Celtic Cross — getting the energy and themes but not always going card by card.
Lesson: it is helpful to know what is worth observing (which I suggest you use your intuition to discover) so that it becomes automatic to you when you converse with the cards. Noticing the elements can be one of these things. For some readers, elements are "meh." You decide for yourself!
If you want to learn more about the elements in general (as they do or don't relate to Tarot), Google is your friend. And we'll be discussing them more, here. From ancient Greece to Alchemy to Astrology to the Chakra system, elements are everywhere! A little background in elemental history can deepen your readings AND make them more fun. I mean, wouldn't you love to say to your friend or client or family member — as you notice the many FIRE cards in their Celtic Cross – that FIRE in the Japanese tradition represents things that destroy (source: Wikipedia!) No need to stop (or start with) Wikipedia of course. Remember the homework I gave you a blog post or two ago?
Do amass your own occult library 🙂
*
I am teaching an on-line Tarot class, beginning later this month and running for a full month — in a Secret group on Facebook, which is where I hold all my classes. This isn't a "beginner" class per se. We are starting in the middle and will be discussing, among other things, theories of Reversed cards — to reverse or not to reverse; off-the-beaten path card meanings, including from Kabbalistic perspective; particular cards that vex you and me; as well as creating our own virtual Mini-Tarot!
Because we meet on Facebook, you can go at your own pace. No pressure to talk at all, but all my classes are discussion based and I love a lively group!
So if my blog posts have piqued your curiosity, please message me for more details. You don't have to be an expert OR a novice just have an interest. Or a passion. Or an obsession!!
*
P.S. Are you interested in receiving a personalized Tarot/Astrology reading? I have a new Special going on for folks who find me through Beliefnet, a discount on my usual rates. Click here to get in touch. Also, Tarot class forming later this month! Email for details.