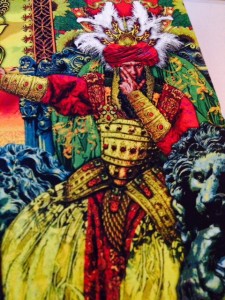 A Full Moon in Capricorn means a Full Moon in Saturn.
A Full Moon OF Saturn. A cup of conditions. A helping of wisdom.
A diet of sorrow? Emotional truths long delayed — or repressed — come floating up like bellies.
Whatever you thought was dead? IT'S NOT DEAD.
What is Saturn?
Some handy keywords for you:
caution, restriction, delay, sorrow, WISDOM, the father, age, ambition, integrity. Tradition. Arid. Thirsty. Bone-dry. THE RULES.
It's an interesting concept in and of itself — a Full Moon in Capricorn — because the Moon is associated with Cancer (the most emotional of the Sun Signs) and Full Moons tend to reveal what's been hidden. We lose our shelter on Full Moons, we lose our skeleton, our skin, exposed for all to see.
What is the Moon (and Cancer)? The breast. The nourishment. Milk. The milk of memory. Food. Nurturing tears of joy. The wet. Your feelings.
Saturn needs to be desert, not the soggy bogland. So what happens when unbridled feeling (Moon/Full Moon) meets Saturn? I think what happens is fear. Paralysis. Refusal. The temptation is to ignore that the long delayed feelings are there, right there in the room with you. You don't want them. What you want is to reject them.. This Full Moon in Capricorn will bring you news, revelations around how you SUPPRESS WHAT YOU ACTUALLY NEED MOST OF ALL. Yeah. You know I'm right.
The Capricorns or Saturn-heavy people in your midst may not be soooo comfortable this weekend. Return to the original keywords above. Saturn/Capricorn rules restriction. Limitation. They don't want these Full Moon feelings. It's all a little too moist. Fear of needs never being met, fear of going hungry. It's an anorexia moon. See, the temptation is there to not even feed yourself. Why? Because THEY didn't. THEY failed you. Failure to nurture. Failure to thrive. Failure to feed.
But it doesn't have to be that way anymore. You CAN feed and get fed. You can be the mother/father you never had.
Even before the Moon becomes Full, it makes major aspects to various other planets, from a soft and gauzy Moon Neptune sextile to a profound Moon Pluto conjunction. The Moon's on a journey long before the opposition hits and then carries on with Venus, Mars, Jupiter, and Mercury. Give it words. Give the pain words.
I think you'll be fine. Follow the Moon and you'll be fine.
Advice from the Tarot:
And yes I really do pull a card at random for this.

KING OF WANDS
.
Interesting to see fire (Wands) in response to the
Full Moon in earthy Capricorn
. He's our King of Ego and I don't mean that in a bad way. I mean confidence in his creativity. He's intuitive. He's brave. He's hot! You can let go a little. Full Moon in Capricorn + King of Wands = an intentional calculated risk. Only question is where/what/how/which direction.
Take your fears in hand, my friends. Mother them, father them. The King of Wands believes you can. And he's got ideas for you on how to go about it so listen up. Look for signs. Signs of life and fire.
P.S. Interested in receiving a personalized Tarot/Astrology reading? I have a new Special going on for folks who find me through Beliefnet. Click here to get in touch.