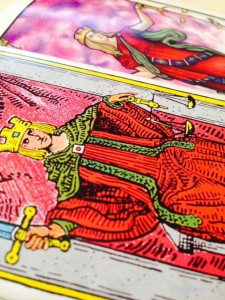 I used to get annoyed when I'd see this card. Didn't know what to make of it. Justice for what? For who? The image didn't speak to me. Same for the Temperance card. In fact, I found them — gasp — boring!
But now Justice is one of my favorites. When I see this card, the message is LOUD AND CLEAR: Justice will be done. Notice that Justice does not have her eyes closed. She sees what's gone on. She's working behind the scenes. Her scale is balanced. If you have been treated unfairly, and you see this card, know that you will be redeemed.
And I love her pageboy haircut 😉
*
This weekend is the Full Moon in Capricorn. Full Moons are releasing moons. They symbolize endings. Resolution. Change. We are supposed to let go.
Is there something, or someone, you want, need to let go of? An idea maybe. A state of mind. Fear. So much fear.
I can think of one state of mind in particular, for myself. I'd love to let it go. I may do a ritual. Send it away through fire. I've been lighting a lot of candles lately. I hope you realize that Jupiter (planet of good fortune and opportunity) is changing signs this month, from water sign to fire sign, moving from zaftig sensitive Cancer to noble, magnanimous Leo. THERE WILL BE DRAMA.
And speaking of Jupiter leaving Cancer, this will be our last Full Moon in this apartment, in this neighborhood, in this borough of the great state of New York. It's a pretty big ending for me, with my Sun (self), Mercury (mind), and Mars (motivation) in Cancer. Home is everything. Home is home.
*
And now I want to tie it all together 🙂 the Justice card, the Full Moon in Capricorn, and Jupiter entering Leo. Capricorn and Saturn are the structures of your life. They are changing under the Full Moon. Quite literally for me, a change of house.
See, you also need to decide. About your life. What's it gonna be? What's next? In astrology, Leo is associated with the Sun and the Sun in your birth chart is YOU. Justice is about seeing yourself clearly. You have a year for this, a whole year, to open your eyes. Go as slowly as you want. Comfort yourself when the shocks come.
And have fun. Leos love their fun.
🙂
P.S. Interested in receiving a personalized Tarot/Astrology reading? I have a new Special going on for folks who find me through Beliefnet. Click here to get in touch.