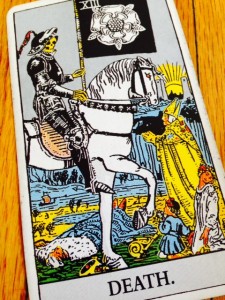 I've written about this card before. It comes up often enough. What I want to emphasize about the Death card this morning is the slowness of it. It's no swift Tower conflagration although you may see Death and Tower in the same spread (although I hope you don't!). There will be change, there will be transition, but we often DO NOT KNOW precisely, down to the minute, what the change will be. The change could be accompanied by the Wheel of Fortune's good fortune or the Knight of Wand's travelogue or the Three of Cups celebration. It could be a Three of Swords (separation) change or an Empress (pregnancy) change.
One thing is certain: Death takes its time.
You know that phase "a good death" ? I remember my mother using that phrase once — to describe a relative's painless passing at a ripe old age. The Death card may or may not signify a good death but it does signify, as I wrote above, a slow death.
And for some this could be good! Some folks prefer their poison drop by drop. And then others do prefer the Tower-rip-off-the-bandaid-the-crisis-is-here-now-pack-your-bags approach to life and how to live it.
I think many of us dig something in-between, although the Gods aren't always interested in what WE want. I think, more often than not, they're not. Truth is though at some point Death (in the guise of change and transition, according to the Tarot) comes for us all. He may knock on the door. He may peer through the window. He may telephone. He may sit at the beautician's filing his nails, waiting. Waiting. Waiting.
Do you feel him coming? Do you sense his presence? A little dark around your own edges. A stomach ache. Just a feeling but not like the usual feeling. And, again, we are not talking about literal death THE REAL DEAL, but the ends of things: relationships, jobs, life cycles. Your empty nest syndrome is the Death card. Your eviction from your home is the Death card. Your broken heart is the Death card. Your courageous determination to change what you believed for so long couldn't be changed is the Death card. It is slow, it is inevitable, it is the decomposition of what was once vigorous and meaningful (to you) now replaced by operation rot.
You know what though? I have a silver lining for you! After Death comes the rebirth. Always always always. And it may feel like a speck to you, the tiniest shrub of hope, not even that good glossy good morning hope but a barely functional bodily function proving you're still here. Know what I mean? Drooling in your sleep as proof that you're alive. You're still here. Even after the Death card.
Dear Readers, you may not feel all teddy bears and rainbows when the Death card seeks you out, but this card is a promise.
Of what?
RESTORATION.
REVIVAL.
LIFE.
P.S. Are you interested in receiving a personalized Tarot/Astrology reading? I have a new Special going on for folks who find me through Beliefnet. Click here to get in touch. Ask my about my new Astrology class forming!