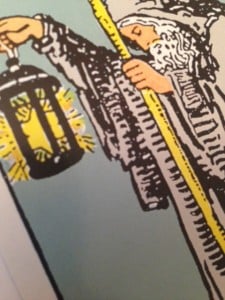 I was happy to see the Hermit this morning as I was checking what card to blog about next. From the power of the Chariot to the passion of Strength to the solitude of the Hermit. Alone time. Introspection. Guidance. Silence. Light. Wisdom. Searching.
And this, from writer Eden Gray: a journey may be necessary in order to gain knowledge.
When you see the Hermit, you may be the teacher. You may seek the teacher. Maybe both.
One thing is for sure: go slow.
*
The New Moon in Cancer is on Friday, June 27th!
New Moons are new starts. They are the seed times. Nothing is certain. Nothing is settled. We set intentions. We hope. We wish upon a star. We pray.
New Moon in Cancer would be an excellent time to set intentions regarding a new home, a new family, feelings of safety and security in your life.
Cancer, above all, is a FEELING sign. Sympathetic, empathetic, nostalgic, deep feeling, powerful, nurturing, creative, loving.
I'm a Cancer so I'm biased 🙂 but on a good day? Nothing like a Cancer's love. It's the ideal mother's love.
I remember years ago my roommate was going through a hard time, a depression. I don't remember what I said… but something that I said to her made all the difference in the world. She said it was like heavenly hands coming down to help her.
This New Moon in Cancer is part sweet and part dark, like the best chocolate. I think some folks may even experience that emotional intensity tide usually felt on Full Moons so just be aware.
I think you will find some sturdy shelter from whatever storm is raging inside you, outside you. Stay there for as long as it takes, until the rains pass.
And notice that the Hermit has a lantern with a star in it. This light is yours.
Love,
Aliza
P.S. Interested in receiving a personalized Tarot/Astrology reading? I have a new Special going on for folks who find me through Beliefnet. Click here to get in touch.