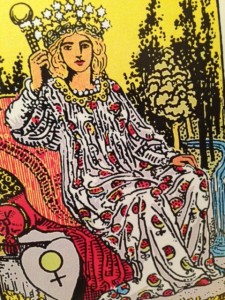 I know folks are reading this blog and that makes me happy. I don't know how many but I am getting emails and messages on my Facebook that people are enjoying 🙂 Maybe it's just 20 of you. Some hardcore Tarot enthusiasts. Early next month I'll know a bit more. Google Analytics and such. You're a damn good 20, whoever you are. Loyal. I thank you.
On my first blog post here, I announced my intentions. I wanted to discuss card meanings, do Tarotscopes, and some Day in the Life type posts – what I do, how I do, why I do. And I feel like I'm really just getting started. Already the blog is growing — I'm writing about things I never intended to, like the Celtic Cross, for example, and I wanted to address this topic a bit more.
A fellow Tarotista told me of her frustration. That the Celtic Cross isn't uniform. Well, the shapes are — the two crosses and the staff — but the order in which to lay the cards will vary, depending on who you read, as well as what the card positions mean. I admit I now have a preference and discovered my preference just the other day. It clicked for me. And maybe that's all that is needed for others to get close to this particular spread. Some sense of order! Bring it!
What I prefer: card number three goes below the little cross (cards one and two). Card number four goes to the left of the little cross. Card number five goes above the little cross. Card number six goes to the right of the little cross. And yes, you will see various versions. You will even see, at times, the card for the immediate FUTURE to the left of the little cross. I encourage you to think outside the box (or cross, as the case may be). It's an art form. You can be creative with it. Did anyone ever tell you that? Seriously. Do you need permission to break the rules? Think about it. That's what creativity IS. New patterns.
Now, you don't have to be obsessed with this Tarot spread, like I am. It may not be for you. I'm so obsessed I'm planning a summer class around it. Celtic Cross mania! I understand some folks prefer more free-form. But I'm going in the opposite direction these days. I'm coming from free-form and moving into more intricate latticework type spreads, either my own inventions or the classics. And hmmm just using the latticework metaphor is inspiring me, perhaps a ladder layout…
*
Although this isn't an astrology blog, I do intend to mention New Moons, Full Moons, when the Sun changes signs, and some other notable moments. Today, my friends, is the New Moon in Gemini, and in my circle we talk about setting intentions on New Moons. What does this mean? It's… kinda like making a wish. Like wishing on a star. But better. It's got more oomph behind it.
You don't have to know the astrology. You don't even have to know anything about Gemini or where the New Gemini Moon will fall in your birth chart.
The least you need to know:  New Moons are the seed times, the dark times, mysterious — for you to reflect on your life. Contemplate. And think about what you want. Is there something you want to change? Keep it in mind. You can even do a small ritual. Light a candle. Write in your journal. Write on your dry erase board (have I told you guys yet about my TWO dry erase boards?). Setting an intention can be a concrete goal or something more abstract — a single word representing where you want to see yourself in a month's time or a year's time. Faith. Hope. Believe. Freedom. New job. California. (For some reason I keep envisioning myself in California, but that's another story.)
The New Moon in Gemini is at 2:40 pm today on the East Coast of the U.S. 11:40 a.m. on the West Coast.
Unlike Full Moons which can be startling and emotional, New Moons, to me, are the hushed times. More High Priestess and Hermit than Three of Cups for sure.
Also, there's a bit of melancholy around this New Moon. A feeling of… rootlessness, homelessness, being cast aside. That where do I belong feeling. I'm saying this based on the astrological transits to the New Moon. Basically, if you find yourself feeling sad or lost, read a book. Do a puzzle. I'm serious. Engaging your mind as strategy.
I'm drawing a card for you for the New Moon: the Empress! Stability. Fertility. Earth. Pleasure.
Aliza's Rule Number Nine for Tarot Reading:
Bring your creativity to your readings. You can make up your own Celtic Cross. Keep the shapes but create new meanings for each card position. Try this at home, my friends! I'd love to hear the results in the comments.
Dear Readers, will you set a New Moon intention?