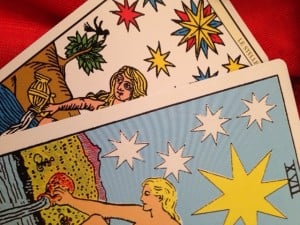 "Yes, you can ask questions — in fact, you should ask questions — if, and only if, you want the answers."
-from Oracle in the City (Book One, Chapter Two)
Last night on the phone, my sister was telling me about her first in-person Tarot reading. She sent me an email of the Celtic Cross in hand drawn facsimile. Her query, career related, manifested a spread populated by various Pentacle cards, foretelling the ups and downs of finances. Her cards were mostly up.
The "outcome" of the spread? The Star: changes not immediate, but on the horizon. The future.
Stars are far away. We know they are there, we see them shining or shooting, but we cannot touch. Not yet. For me this was a juicy contradiction: focus on practical matters (Pentacles) and keep your eyes on the prize (The Star).
I decided to create a spread for her, like I did that first day.
What was standing in her way? What was she doing right? What did she need to know most?
Three cards. Three questions. One answer.
**
Next week the Sun will move out of Taurus and into the sign of Gemini. Although this is not an astrology blog, I will sometimes make mention of significant heavenly events. Taurus is slow, stubborn, ponderous while Gemini is quick-witted, clever, and multi-tasking!
How will you adjust your activities? How will your activities adjust you?
You may find yourself pleasantly preoccupied.
**
But back to our story.
What was standing in her way?
What was helpful?
What did she need to know? Money and magic.
The Ace of Pentacles showed her at the humble, but hopeful, beginning of the necessary nest egg while the Magician revealed her many skills, her power.
And the Knight of Swords as the center card? Swords symbolize the mind, thinking, conflict, how we may tie ourselves up in knots. The Knight of Swords is in a hurry, impatient, so despite being a skilled magician, I could see her talking herself — or thinking herself — out of her dream, out of her Star.
This dream isn't finished hatching, I said.
And then I remembered that all the Knights rescue, all the Knights save, all the Knights journey through a dark wood.
Courage, dear sister. Courage!
Aliza's Rule Number Two for Tarot Reading:
Tell a story. Tell a true story about the future.
Dear Readers, are you hatching a dream?