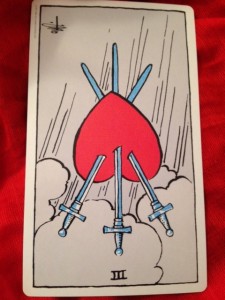 Welcome to my first Tarotscope Weekly Forecast!
I do not cast my predictions based on astrology or Sun Signs. What I do is decide which area of life I want to focus on — the topic for this week is LOVE — and then I draw a card.
This week  I'll be drawing cards for:
–those looking for love
–those not looking for love
–the happily marrieds
–the newly heartbroken 
–the subtly discontented
Good news for those looking for love, whether or not you find it this week. The STRENGTH card shows a woman and her animal companions, three of the big cats, wild ones. There is no predator in this card. There is no prey. I'm reading this as your first handshake, so to speak. That you are acting in your own best interest. That if you meet someone on-line or at a Meet-up, you will present a formidable presence. You have backbone, bravery, passion. It's a good week to circulate.
Those not looking for love? No need to force it this week, no matter what your well-meaning friends and family say.  The TEN OF PENTACLES reversed is FINE with putting these needs aside for now. Sometimes when I do readings for people, I can see in the chart or the cards that the energies want them to move forward in an area of life that they are consciously resisting. Not so in this case. It's perfectly fine to pretty yourself up for a quiet evening at home.
I love seeing the PAGE OF WANDS for the happily marrieds. Pages bring messages, cheerful news. When I see a Page (of any suit) I know life is moving again. We feel young again. New tricks for the old dogs. Joyful sexuality.
For those suffering from love lost or a broken heart, you have my sympathy. For you we see the EIGHT OF SWORDS. The version of the card I'm looking at portrays a woman ensnared in a web — the eight Swords don't penetrate her skin, but she's surrounded on all sides. This pain is potent, but if she can  allow her emotions to rise, and stay with them, she will find herself free. Those Swords will then be hers to hold. When I see this card I know the querent feels stuck but I also know it is temporary.
We see the KNIGHT OF PENTACLES reversed for the subtly discontented and this is probably my least favorite card of the bunch. The Knight of Pentacles upright is cautious, but reversed? More cautious, even timid. The subtlety discontented aren't ready for change and this card confirms that. They are moving backwards, perhaps even making excuses.
Let's draw some quick advice for those struggling.
Well, hello. THREE OF SWORDS reversed. It gets better. It will definitely get better. Maybe not today. Maybe not tomorrow. But in time. I promise.
Aliza's Rule Number Four for Tarot Reading:
Promise rarely and only promise what you know to be true.
Dear Readers, do you see yourself in the cards?