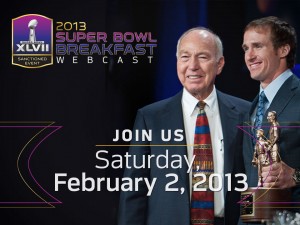 On February 1st, Athletes in Action will host its annual Super Bowl Breakfast. This year's event will feature Dallas Cowboys tight end Jason Witten, Pro Football Hall of Fame and Green Bay Packers legendary quarterback Bart Starr, former San Francisco 49ers tight end Brent Jones, New Orleans Saints cornerback Jabari Greer, 1996 Heisman Trophy winner Danny Wuerffel and Olympic commentator Lewis Johnson.
While roughly 1,500 are expected to attend, the event also provides a unique ministry opportunity for churches, small groups, Bible studies, Super Bowl watch parties and families across the country. On February 2nd, full video of the breakfast will be available via pay-per-view webcast. This broadcast will be available through February 3rd.
There is also a special giveaway that includes a Wilson commemorative football and a six-DVD set of AIA's sports documentaries, plus five additional DVD sets that will be given away as part of this promotion.
To learn more about the Super Bowl Breakfast and the giveaway, click the link below where you can watch a preview video and get all of the pertinent details.