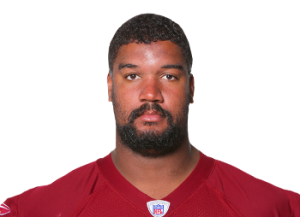 In his seven NFL seasons, Washington Redskins center Chris Chester has experienced the highs of a playoff run (during four seasons with Baltimore) and the lows of playing for a struggling franchise (during the 2010 and 2011 seasons with Washington).
These days, Chester has the exciting job of protecting star rookie quarterback Robert Griffin III, and, in many cases, catching the tail end of some pretty spectacular plays as the Redskins work towards playoff contention for the first time since 2007.
In this Inspiring Athletes, we talk to the former Oklahoma Sooners star turned NFL stalwart about his growing Christian faith and the blessing of family:
Chad Bonham: What brought you from Tustin, California, to Norman, Oklahoma?
Chris Chester: It came on pretty fast. I didn't play football until I was in high school. I didn't really didn't follow it. I wanted to be in the NBA but I wasn't tall enough. So I had a couple of good years and then Oklahoma started to come around. That was the year that they won the national championship against Florida State. I wanted to experience something different. There's great high school football in California and you have some great programs on the west coast like USC and Oregon, but I wanted to go to a place where football is number one. I thought it would be a great experience.
Bonham: Tell me about your spiritual journey.
Chester: I have great parents and a great family but we didn't have a consistent faith routine as far as going to church or talking about the Lord. In middle school, about sixth or seventh grade, my dad and I would go to church on Sundays. It was a good experience. But towards high school, things got a little bit hectic. My parents were having work issues and we ended up moving a couple times. Life got in the way and we just stopped going to church. It just became less important. I didn't make for it and I caught up doing my own thing. I don't think I ever lost faith but I just thought I could do everything on my own. I didn't think I needed a relationship with God. But when I got to OU, Coach Stoops and the guys from FCA did a great job making sure there was always a chapel service on Saturday before the games. That made a big impact on my life. I was a still in college and still a young man. There was still a conflict between the worldly experience and wanting to make good decisions and doing the right thing. It was a growing process—not that I've figured everything out but I'm much different from where I was then.
Bonham: What was your transition into the NFL like?
Chester: I was fortunate to be going into the NFL with a family. It made it easier for me to avoid that life in the fast lane experience as a pro athlete—the stereotypical experience of going out and partying every night. I was fortunate enough to have an experience that allowed me to mature before I got into the NFL.
Bonham: How has your faith helped you get through challenging moments in your career?
Chester: Life is tough but we have a lot to be happy about—especially as Christians. We've got it all. So whenever it gets tough and things aren't going your way, that's what I go to. That's what I think about.
Bonham: What is your message to people who are influenced by your role as an NFL player?
Chester: Stick with what you're doing. Be invested in it. When it gets tough, don't give up or quit. Be a grinder. It might not work out the way you want. Fans don't like it when athletes say, "We gave it our best" and, "It's just a game." They hate to hear that because they want (to win) too. But if you give everything you have and you do everything you can and it doesn't work out, you can still be happy with the result. You can move on.