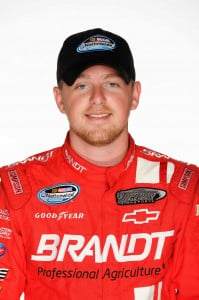 Justin Allgaier has literally been around racing his whole life. He caught the bug from his father Mike who worked with various teams due to his involvement with Hoosier Tire Distributors. By the time Allgaier was just five years old, he was buzzing around the track in a quarter midget, and he hasn't stopped since.
Now racing in NASCAR's Nationwide Series, Allgaier has won three career races and has established himself as one of the sport's rising stars. But it's taken more than just racing pedigree and hard work to get to the top. Allgaier quickly gives credit to his strong faith in God, his rock solid relationship with Ashley Allgaier to whom he has been married since they were both 19 years old, and a group of Christian drivers (i.e. Trevor Bayne, Michael McDowell, Ricky Stenhouse Jr., Blake Koch, Josh Wise, etc.) that keep each other accountable to their core values.
In this Inspiring Athletes, both Justin and Ashley take time to talk about married life in NASCAR, the importance of fellowship on the road, and what makes the sport so unique:
Chad Bonham: How much did it help to be married before becoming a prominent professional driver?
Justin Allgaier: I probably wouldn't be in the situation I'm in if it wasn't for Ashley. It helps me a lot (to be married). I can't imagine being in this sport being single. It's been good for me to have someone there. My wife's not my biggest cheerleader. She's probably my biggest critic most of the time. She helps balance out who I am, what I do and how I need to get it done.
Bonham: Do you get nervous when Justin gets in a car before a race?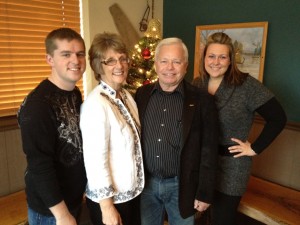 Ashley Allgaier: I don't get nervous. I just don't like Daytona and Talladega. I'm confident in his racing ability but one person's mistake can jeopardize him. When Daytona rolls around, I love it but I'm dreading it at the same time.
Bonham: What's the scariest moment you've dealt with at this point in Justin's career?
Ashley Allgaier: A scary moment was at his first Nationwide Race at Charlotte in 2008 when he wrecked and his car went up in flames. He didn't get out of the car right away. It was his first race with Penske and there were all kinds of emotions. That was probably the worst one because I had no clue where the infield care center was. I practically got lost trying to get there. By the time I got there, he was checked out of the doctor's (room) and looking for me.
Bonham: What are the benefits of spending time with likeminded Christian drivers such throughout the weekend?
Justin Allgaier: That's a big deal. Being able to surround yourself with good people is a good thing. We all have our struggles. Some come in different forms than others, but those relationships definitely help. Ashley and I feel like since our small group has started that we've gotten closer to the McDowells and the Wises and the Kochs. We meet a couple of times during the week—especially during the offseason.
Bonham: How did Trevor's Daytona 500 win last year impact the group?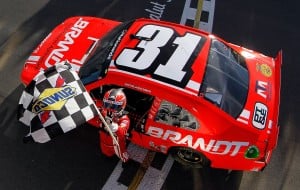 Justin Allgaier: It's amazing how much people talk about Tim Tebow. Trevor was the same way. When Trevor won the 500, people talked about (his faith) a lot. It's a good thing, but it also brings a magnifying glass on you a little bit whenever you profess that. For us, it's good that we can keep each other accountable. We're able to push each other and keep each other from screwing up.
Bonham: What makes NASCAR different from other sports?
Ashley Allgaier: I fell in love with how passionate the fans are. We get a lot of good feedback. There's negative feedback too but it's just because they're so passionate about the sport. That's what I like. I do try to be the best role model that I can be. And it's hard because your emotions tend to get the best of you sometimes. But I just love how passionate they are and how they sit out in 110-degree weather and they pay for that seat. Not a lot of people would do that.
Justin Allgaier: In our sport, the drivers are more accessible than any other sport. You go to a football game and more than likely you're not going to be able to get field passes and meet the players before the game or you're not going to be able to go to an autograph session an hour before the game. A lot of the things we do, they allow the drivers to get close to the fans. That's a big deal. I've had great fans over the years and being able to interact with them is the only reason they're coming to the racetrack. They come in hopes that they might get to meet somebody or see somebody. There are a lot more good things in NASCAR than there are bad.
Follow Justin Allgaier's pursuit of a Nationwide Series championship by visiting his official website HERE.