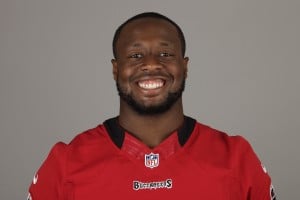 Gerald McCoy loves to enjoy life and he loves Jesus. Those two things have sometimes been considered mutually exclusive—you can't love both, just one or the other.
But the Tampa Bay Buccaneers defensive tackle has spent most of his young adult life trying to prove otherwise thanks to his infectious smile, his ability to light up a room, and his relentless pursuit of a joyful Christian walk.
In this Inspiring Athletes interview, McCoy talks about former Florida quarterback Tim Tebow, St. Louis Rams quarterback Sam Bradford, his spiritual background and how he gets through difficult times.
Chad Bonham: What do you remember most about playing in the BCS Championship game against Florida (January 8, 2009)?
Gerald McCoy: The atmosphere at that game was insane. Even after the game was over and they were accepting the trophy, I was the last Oklahoma person in the stadium. I wanted to take it all in until they kicked me out.
Bonham: There was some pretty amazing talent on both sides of the ball, most notably Tim Tebow and Sam Bradford.
McCoy: Tebow was such a great player. I always told myself that if we ever played them, I was going to get to him. All of that running he was doing to other people, he was not going to do that to us. And for the first three quarters, he really wasn't. It was Percy Harvin who made the plays. But then in the fourth quarter, Tebow just came alive like he always does.
Bonham: Didn't you get your first career interception against him?
McCoy: Every time I talk to him I always bring it up. "You're the Heisman, but I did intercept you." He always laughs and says, "Man Gerald, I didn't even see you standing there."
Bonham: And of course your quarterback was pretty good too.
McCoy: Sam is one of accurate quarterbacks I've ever seen play. He's so smart. He's a brilliant person. He's going to be one of the great ones. Sam's a great person. He has a great heart and anybody who thinks anything bad about Sam is completely wrong. He's one of the nicest guys I've ever met.
Bonham: Tell me about your spiritual background.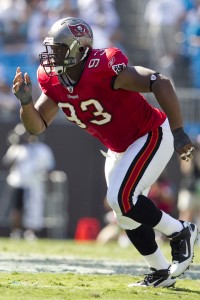 McCoy: My parents raised me to be a Christ follower—not just a Christian or a guy who believes in God. I learned to be a Christ follower and an imitator of Christ. I didn't always embrace it the way I do now. I won't lie and say that. But the older I got, the more I embraced it. As I grew up and matured, I saw that nothing is impossible with God. There's nothing He's incapable of doing and He's always right. God is always right. I realized that all my blessings and all the things I've done on the field, I didn't do that. That wasn't Gerald. That wasn't Gerald Sr. That wasn't Patricia. That was God's doing and His plans for my life. I started to live in that and live for God. There's no other way to live.
Bonham: You've dealt with some challenges in your life such as losing your mom and injuries that have slowed down your NFL career at times. How has your faith helped you deal with those things?
McCoy: One of my favorite scriptures is James 1:2-4. "Consider it pure joy, my brothers and sisters, whenever you face trials of many kinds, because you know that the testing of your faith produces perseverance. Let perseverance finish its work so that you may be mature and complete, not lacking anything." We're supposed to be excited when a challenge comes. Tests of your faith help you grow. You have to embrace it and love it and enjoy it even though it's difficult. If you remain thankful and faithful, everything will work out.
You can read more from Gerald McCoy in the forthcoming books Sooner Legacy and Lessons From Oklahoma Football, both of which will be released in early 2013 by Cross Training Publishers.
And follow McCoy throughout the NFL season by visiting Tampa Bay's official website HERE.